Moda Center | Portland, Oregon
The big daddy of country music superstars will roll-in to this side of town with his 'Friends and Heroes 2020 Tour'. With his adorable wit and country boy charm, his beaming smile, and not to mention, his smooth and heartwarming voice, how could anyone not get tickets to watch Blake Shelton?! You read it right. Blake Shelton will hit the Moda Center stage on Thursday 13th February 2020, along with special guest Lauren Alaina, plus support acts the Bellamy Brothers, John Anderson, and Trace Adkins. An iconic artist along with fast-rising stars is one big reason for fans to queue up for tickets. Well, aren't you glad you don't have to go through that? From this ticket site, you can just 'skip the line' and get your tickets with a few easy clicks. Start with the 'buy tickets' button, then you'll be well on your way to catching Blake Shelton's super cool 'Friends and Heroes 2020 Tour'!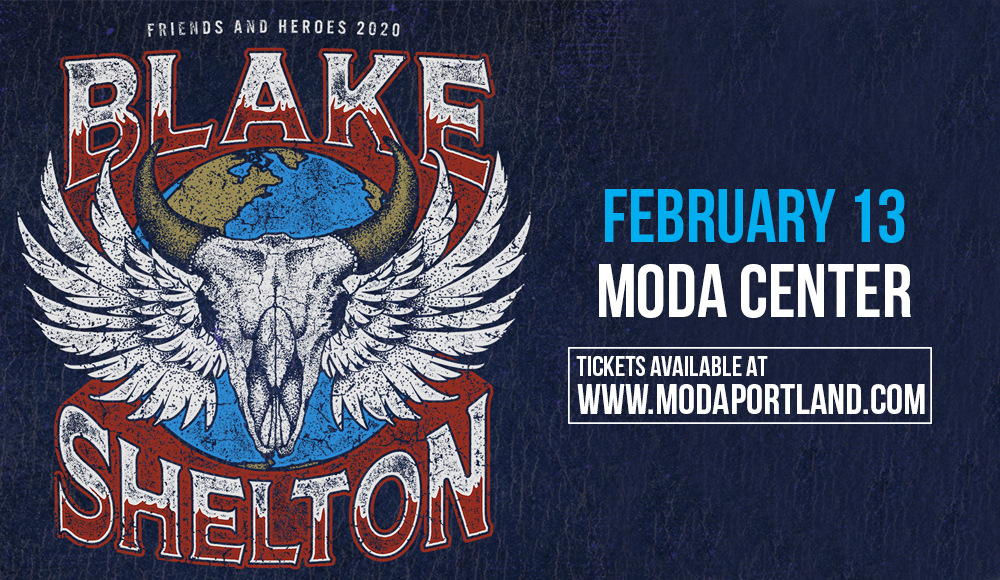 As "The Voice"'s longest-running resident judge, Blake Shelton's signature 'pick-me' gesture is one of the things that endear him to gazillions of viewers all over the world. Blake Shelton is indeed a choice pick, as the artist behind that infectious persona and that beaming smile shines brightly with his achievements in the galaxy of country music. Shelton has sold over 10 million records and generated a total of 1.7 billion streams, worldwide. Being the recipient of nine Country Music Association Awards, five Academy of Country Music Awards, one CMT Artist of the Year award, and seven CMT Music Awards, among many others, he is but worthy of The New York Times' citation as the "the most important and visible ambassador from Nashville to the American mainstream.", and Rolling Stone's recognitions as "one of country music's biggest stars over the past decade."
Blake Shelton is still at the top of his game as he has never stopped and sit at his laurels. He is always on roll, and the year 2020 is no different as he ushers in the new year with a tour dubbed as 'Friends and Heroes 2020 Tour'.
"The Friends and Heroes Tour was so exciting and successful last year that I couldn't imagine not trying something like that again. Even though every night when the show wrapped, I would tell the audience that they might never see something like this again, with these legends, my plan all along was to at least try to make that happen," says Shelton.
He continues expressing his utmost excitement. "I didn't know if I'd be able to get the same artists, but we were able to work it out," Shelton adds. "We were only able to do a handful of shows last year, so we're going to take the tour to different areas so that fans will get a chance to see what we did. I feel like it was the best concert experience that I've ever been involved in, and I'm ready to get fired up again."
Well the heat is on! Don't be left out on the cold. Get your hands and grab these hot tickets right here, right now!