Moda Center | Portland, Oregon
Want to enjoy an awesome threesome? Get ready for some slammin' and headbanging as Bring Me The Horizon, Sleeping With Sirens & Poppy and embark on their much-awaited tour dubbed as the 'The Threesome Tour'. This tour will make several major stops including a gig in this side of town as they pull-over and jump on the live stage of the Moda Center on Monday, 14th October 2019. Metalcore action has never been this intense. Bring Me The Horizon, Sleeping With Sirens & Poppy — a rock-solid line-up that's unbeatable to the core. Lock-in that date and score your tickets right here, right now!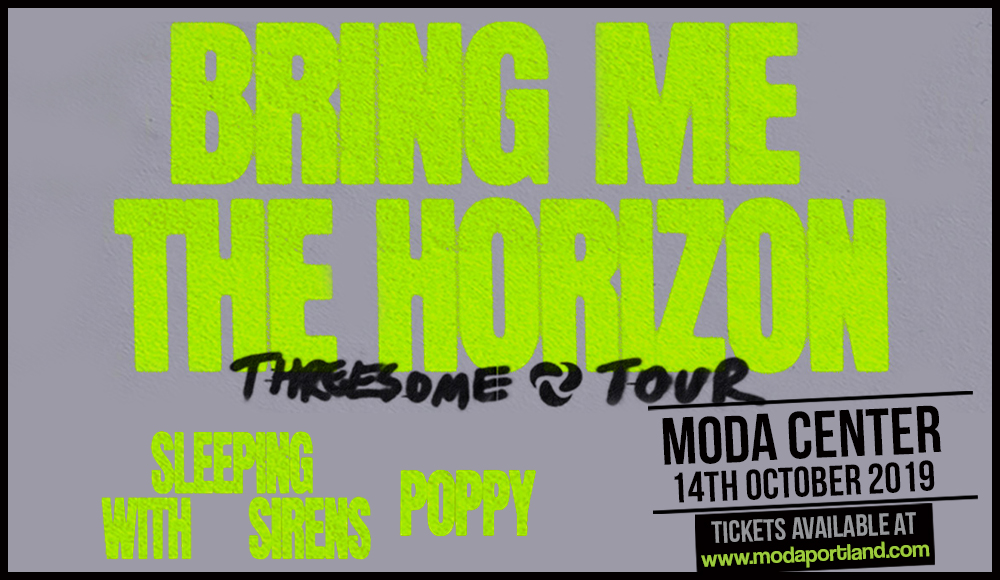 One of the most enduring death-metal core bands to emerge from the UK is Bring Me The Horizon. With their rough and unruly reputation, many had their doubts on how far this band could last. Yet their musicality has shown great potential for those who saw through and believed that their careers could look promising and go beyond the horizon. A decade and a half has passed, Bring Me The Horizon proved their detractors wrong and showed 'em that they're still a force to reckon with. As they recently unleashed their sixth studio album their sixth studio album, 'amo', which was awarded five stars in an NME review, with Andrew Trendell saying, "15 years into their career and light years from their deathcore beginnings, Bring Me The Horizon have embarked on an odyssey of diversity in sound, proof that they can do what they want and get away with it". "Amo" has been streamed more than 415 million times. The band has collectively sold over four million albums globally to date and has played sold-out shows in over 40 countries.
Joining headliner act Bring Me The Horizon is a bonafide show-stopper. Post-hardcore band Sleeping with Sirens. They bring something unique into the table by having a melodic take on the post-hardcore genre. Completing 'The Threesome Tour' is heavy metal queen Poppy.
Hot ticket alert! No time to wast, grab tickets to 'The Threesome tour' now!