Moda Center | Portland, Oregon
The multi-platinum American rock sensation, Dave Matthews Band, is alive and kicking as they've just announced a headlining tour this fall. Partnering with the Nature Conservancy, the tour's proceeds will help the organization plant a million trees. Rock with a good cause at Moda Center on Saturday, 5th of November 2022 at the Dave Matthews Band Tour 2022. Since their 1991 formation and 1994 debut with their "Recently" EP, Dave Matthews Band has been alive and rocking it out with their latest project being 2018's "Come Tomorrow" album. Don't miss out on one of American rock's essential bands by saving your spot on tour, and helping plant 1 million more trees by booking your tickets now!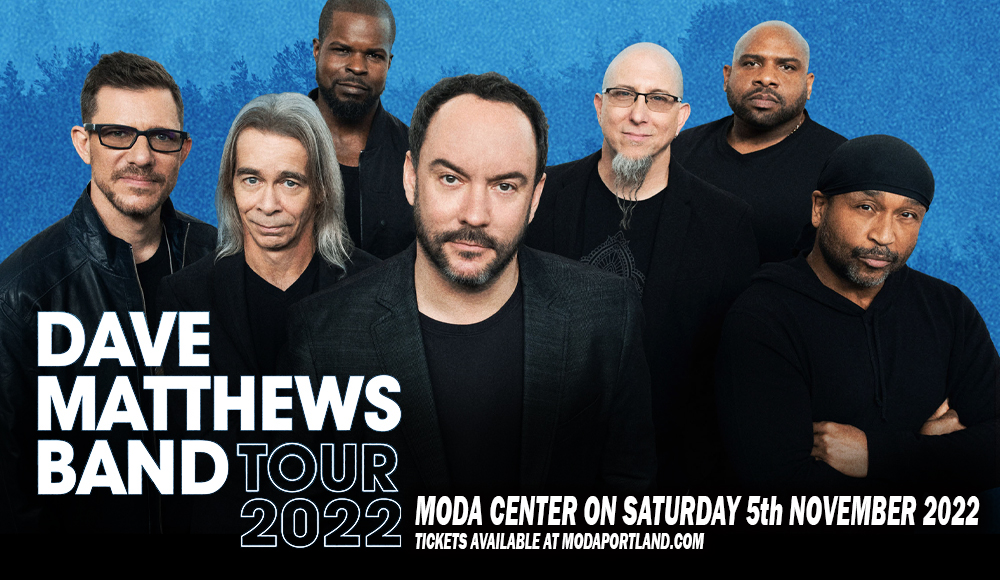 Formed in 1991, Dave Matthews Band skyrocketed to become one of the globe's favorite American rock bands to exist. Their 2018 album, Come Tomorrow, hit #1 on the Billboard 200, marking history as the first band to have seven consecutive studio albums debuting at the top. With music that hits the soul, fans have been rocking their hearts out record after record as the band spawned several hits throughout the years.
In 1996, Dave Matthews Band won a Grammy Award for Best Rock Vocal Performance by a Duo or Group with their hit single "So Much to Say". The band also had thirteen more Grammy nominations for awards including "Best Rock Song", "Best Rock Album", and "Album of the Year".
Dave Matthews Band's hit singles and crowd favorites include "Crush", "The Space Between", "Stay (Wasting Time)", "Funny the Way It Is", "Dreamgirl", "You and Me", "Come Tomorrow", and "American Baby".
Though formed in 1991, Dave Matthews Band found their breakthrough to global stardom in 1994 with the release of their debut studio album "Under the Table and Dreaming" which featured their hit singles "What Would You Say", "Satellite", and "Ants Marching". The record brought the band to the limelight, bagging a 6x Platinum certification from the RIAA. Since then, Dave Matthews band has grown bigger and bigger, rocking it out even harder on every record they drop.
Since their third album "Before These Crowded Streets", the band has debuted on the Billboard 200 at #1, seven times in a row up until their latest album "Come Tomorrow" in 2018.
As live music marked its big return this year, Dave Matthews Band is catching up with a rock-tastic set of shows this fall in partnership with the Nature Conservancy's Plant a Billion Trees project. The tour is expected to help plant one more million trees. No other show allows you to rock the night out while helping create a greener earth. Book your tickets now!