Moda Center | Portland, Oregon
Take me to Church! If you've heard that clamour from country music fans as of late, it means the excitement is building up for country music star Eric Church's "Gather Again" tour. Eric Church is bound for a concert at the Moda Center on Friday 15th April 2022, with a stage set-up designed and positioned "in the round", where Eric would literally perform on center stage as fans gather around it. With his chart-topping hits "How 'Bout You", "Two Pink Lines", and "Guys Like Me", a truly spectacular show awaits. Check out the show tickets now and lock it in as early as possible before they sell out. Click on that 'Get Tickets' link on this site now!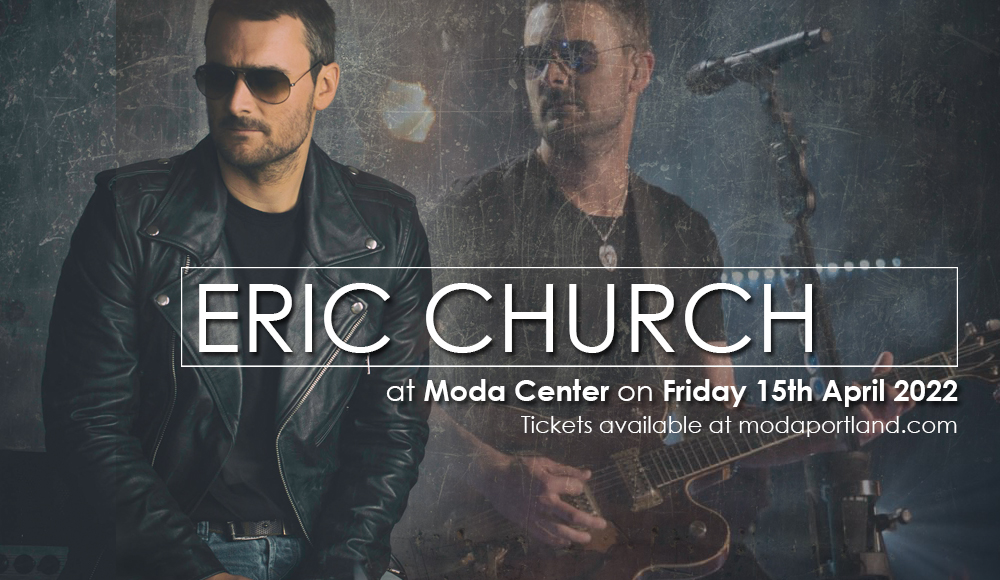 "Gather Again" is an optimistic call for country music fans and for a beloved country music artist Eric Church to revel in the moment of being able to be part of a collective event and sharing the love of performing and experience live music again.
Hence, Eric Church is a staunch supporter and openly expresses his opinions and encourages his fans to get vaccinated for protection again the Covid-19 virus.
"It became very clear to me that the only way to really get back to normal is through vaccinations. You've got to get needles in arms," he shared with Billboard. .. "I just want to play shows," he continued. "Politics' job is to divide – that's how you win elections. Those things that unite us are music and sports. The times when, whether you're a Democrat or Republican or whatever, you throw your arm around the person next to you. We need that. I need that."
Branded by Blake Shelton and Luke Bryan as the Willie Nelson for the new-country generation, Eric Church has been living it to it through his prolific songwriting, his chart-topping hits, and numerous awards and recognitions. In 2006, his debut album "Sinners Like Me", produced three singles on the Billboard country charts including the top 20 hits "How 'Bout You", "Two Pink Lines", and "Guys Like Me". His succeeding albums spawned top ten hits such as "Love Your Love the Most" and "Hell on the Heart". Then in 2011, he had his first crack of hitting the top spot in the albums charts with "Chief," which gave him his first two No. 1 singles, "Drink in My Hand" and "Springsteen", and the hits "Homeboy", "Creepin'", and "Like Jesus Does". His unbroken string of hits run parallel to his award-winning streak. In 2011, he received the ACM award for Top New Solo Vocalist, the American Country Awards Song of the Year for "Springsteen" in 2012, and the 2016 CMA award Album of the Year for Mr. Misunderstood.
Eric Church's fans are in that ticket-buying mode at the moment. Don't miss the chance to "Gather Again". Book your tickets now!