Moda Center | Portland, Oregon
'Can you hear the horses? 'Cause here they come! Florence and The Machine is set to bring in the 'dance fever as they kickstart a much-awaited tour! They'll be hitting the stage at Moda Center on Friday, 7th of October 2022. The indie crowd-favorite band, Florence and The Machine, is also dropping their fifth studio record "Dance Fever" this coming 13th of May. They've been giving fans a taste of new music with three singles this year, namely "King", "Heaven Is Here", and "My Love". As they've always sung 'the dog days are over, the band is set to take on a new era with their much-awaited new album. Catch Florence and The Machine perform their biggest hits, fan-favorites, and new music live on stage by booking your tickets now!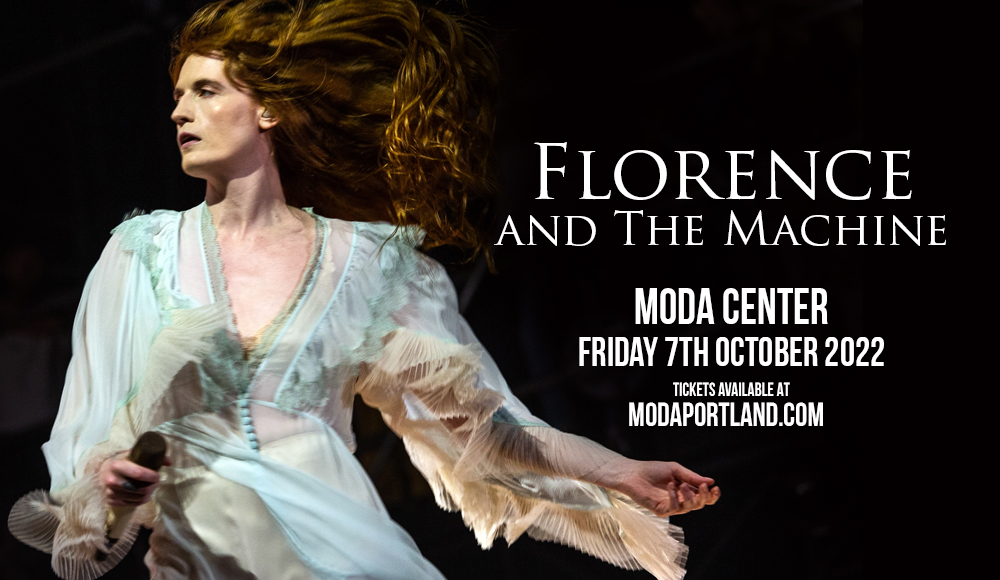 Florence and The Machine began between '07 and '08 when lead vocalist Florence Welch and keyboardist Isabella Summers started a collaboration. Welch says "The name Florence and the Machine started off as a private joke that got out of hand. I made music with my friend, who we called Isabella Machine to which I was Florence Robot. When I was about an hour away from my first gig, I still didn't have a name, so I thought 'Okay, I'll be Florence Robot/Isa Machine', before realizing that name was so long it'd drive me mad."
From then on, they welcomed more band members whom Welch praised for their creative process. The present roster includes Florence Welch on lead vocals, Isabella Summers in keyboards and synths, lead guitarist Robert Ackroyd, Tom Monger on harp, xylophones, and percussions, bassist Cyrus Bayandor, Aku Orraca-Tetteh on percussions, Dionne Douglas on violins, Hazel Mills also on keyboards, and drummer Loren Humphrey.
Together, they are Florence and The Machine who are highly acclaimed for their captivating live shows, Welch's alluring vocals, and lyrical play.
Since their debut album "Lungs" in 2009, the band amassed a global following through their hit tracks over four albums. Their biggest hits and crowd favorites include "You've Got the Love", "Shake It Out", "Spectrum (Say My Name)", "Hunger", and "Dog Days Are Over".
As 2022 rose, fans have been eager to hear new music from Florence and The Machine. They kicked the year off with the release of their first single for the year "King" – where Welch explained her struggles regarding her womanhood and her career.
"As an artist, I never actually thought about my gender that much…But now, thinking about being a woman in my 30s and the future … I suddenly feel this tearing of my identity and my desires… says Welch. "To be a performer, but also to want a family might not be as simple for me as it is for my male counterparts…," talking about the single "King".
The band then dropped another new single "Heaven Is Here" – the first song Florence Welch wrote during the lockdown. "I wanted to make something monstrous. And this clamour of joy, fury and grief was the first thing that came out," she posted on Instagram.
Then they released "My Love" – the band's newest single to date. The track has lyrical inspirations from tragic heroes of pre-Raphaelite art, Carmen Maria Machado and Julia Armfield's gothic works, and two films – The Wicker Man and The Witch To Midsommar.
As Florence and The Machine shared the official release date of "Dance Fever", which is dropping on May 13th, Welch wrote in a caption that the upcoming record is "A fairytale of 14 songs,".
'The dog days are over! As Florence and The Machine sang in their debut release, it's another new era for the band. This time, they're taking listeners on a fairytale of wonder and mystery as fans await the lyrical magic and alluring composition of the band's new music.
So, don't miss out on catching Florence and The Machine live on stage on their tour, stopping by at Moda Center. Book your tickets now!