Moda Center | Portland, Oregon
Gunners have patiently waited for this…finally, it's happening! Guns N' Roses have officially dropped tour dates to their 2021 tour. And yes, they'll come swinging by this side of town for a one-night-only show at the Moda Center on Sunday 22nd August 2021. Since the recent pandemic brought about an abrupt end to their "Not in This Lifetime… Tour", GNR fans have been clamoring for another round of what became the third-highest-grossing concert tour on record. Don't you cry over sold-out tickets… Just be quick to click on that 'Get Tickets' link on this site. Tickets are now available. Book your tickets now!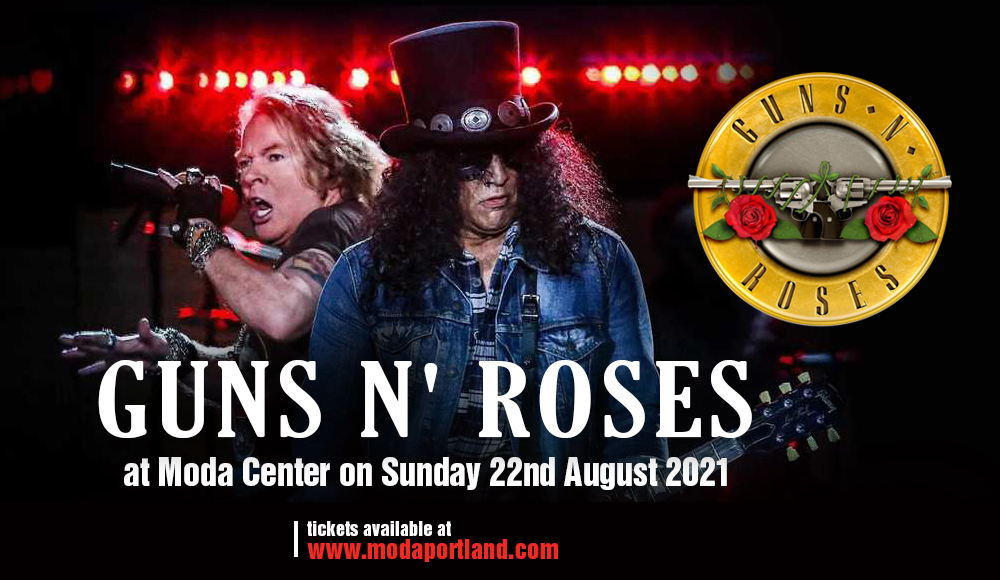 Guns N' Roses are often loosely described as a 'hair band' with music pigeon-holed as 'glam rock'. For their detractors, GNR just flipped their hair, so to speak, proving that they have a place among the big guns of rock music.
Aerosmith's Joe Perry stated: "Guns n' Roses are still an example of how a band can move rock forward. Sometimes you think, "How can you top anything by The Yardbirds, or Zeppelin, or the Stones?" And then you hear Guns n' Roses, and it's inspiring. You can think that it's all been written, but it hasn't."
It may have been a slow burn for GNR's Appetite for Destruction (1987), which reached number one on the Billboard 200 a year after its release, on the strength of the top 10 singles "Welcome to the Jungle", "Paradise City", and "Sweet Child o' Mine". Yet Appetite has caught on, making people really hungry as it raked in over 30 million copies sold worldwide, including 18 million units in the United States, making it the country's bestselling debut album and eleventh-bestselling album. GNR has been unstoppable since, making them one of the world's best-selling bands of all time, having sold more than 100 million records worldwide.
Guns N' Roses have been inducted into the Rock and Roll Hall of Fame on April 14, 2012. Individual band members have been acclaimed and ranked as 'the bests' in their stature. Axl Rose is highly regarded as one of the best vocalists of all time; Slash is recognized as a guitar god — one of the best guitar players of all time; and McKagan hailed as one of the best bass players in the rock by publications ranging from Rolling Stone and NME to Time and Guitar World, while Steven Adler was ranked as the 98th greatest drummer of all time by Rolling Stone.
Amidst all the conflicts, personal issues, differences, internal squabbles, where Axl Rose stated that the possibility of reunion would happen "not in this lifetime", GNR fans held on and seen that patience, indeed, has its rewards… Don't wait for the next lifetime to catch Guns N' Roses on tour. It's happening now and tickets are available right here, right now!