Moda Center | Portland, Oregon
Miss out on a pop-rock double-headliner with blue-eyed soul icons Hall and Oates & "Drops of Jupiter" hit-makers Train playing full sets…?! No can do! The two chart-topping bands come to Moda Center on Thursday 9th August 2018, and will be serving up hit after hit!
"This is going to be a tour filled with fun as well as great music," Hall said in a statement. "I love Train and have a close relationship with Pat Monahan, going back to our Live From Daryl's House show together."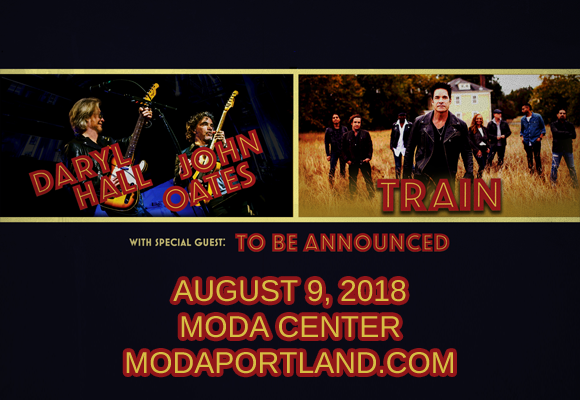 Daryl Hall and John Oates are a pop rock music duo who first found fame in the late 1970s with their eponymous RCA debut album and its follow-up Bigger Than Both of Us (both released in 1976), the latter of which launched their first number one hit, Rich Girl. The duo have had several number one singles on the Billboard Hot 100, including "Kiss on My List", "Private Eyes", "I Can't Go for That (No Can Do)", "Maneater", and "Out of Touch", with thirty four chart hits on the US Billboard Hot 100 in total, seven RIAA platinum albums, and six RIAA gold albums throughout their career. To date, Hall and Oates have sold around forty million records, which makes them the third best-selling music duo of all time.