Moda Center | Portland, Oregon
Time might have moved on but one thing that hasn't changed is the incredible classic songwriters of all time – James Taylor and His All Star Band & Bonnie Raitt… if you thought that your concert list couldn't get any better then you're in for a surprise as these absolute greats come to Moda Center on Tuesday 5th June 2018!
A night of unforgettable and heart warming moments as they each take to the stage to showcase all of their songs that they are known for.
Tickets will be selling fast as shows like this don't come often… Book yours online today.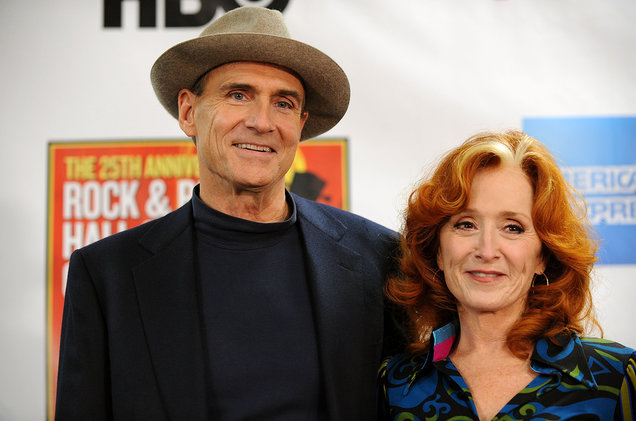 The voice behind some of the most beautiful songs of all time, it's of course, Bonnie Raitt.
The female American blues singer-songstress, musician, and activist really has changed the history of music with her powerful classics that any music fans collection just isn't complete without.
Throughout the 1970s, like so many unforgettable musicians at the time, Raitt began to release her original material, a series of roots-influenced albums that incorporated elements of blues, rock, folk and country. With a solid 20 years of continuing to produce, release and tour her collection of material when 1989 came it was time for yet another album and this time it was one that would remain to be one of her greatest to date.
In 1989, after several years of critical acclaim but little commercial success, Bonnie Raitt hit the big time with her wonderful record – Nick of Time. And the next two albums, Luck of the Draw (1991) and Longing in Their Hearts (1994), followed in it's same footsteps with a multimillion sales triumph, these included some of her groundbreaking successful singles – "Something to Talk About", "Love Sneakin' Up on You", and the ballad "I Can't Make You Love Me" (with Bruce Hornsby on piano). This song in particular really has withstood throughout the decades and has been covered countless of times by fellow artists such as the folk singer, Bon Iver. It's slow piano chords and raw vocals never fail to pull on the heartstrings and is full of lyrical content that reaches that bittersweet emotion perfectly.
Bonnie Raitt has made history. Now she has in total gained 10 Grammy Awards and along with this has been listed at number 50 in Rolling Stone's "100 Greatest Singers of All Time" and number 89 on the magazine's list of the "100 Greatest Guitarists of All Time" – there's no one quite like her.