Moda Center at the Rose Quarter | Portland, Oregon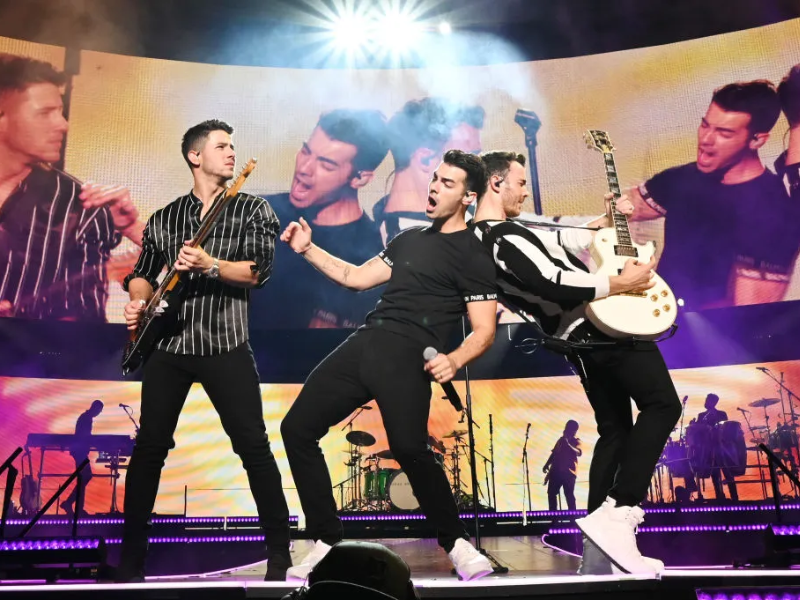 Keep your cool! Kevin, Joe, and Nick are Burnin' Up the Moda Center stage this coming summer! On November 9, 2023, The Jonas Brothers will reunite at the Portland venue for their ambitious "Five Albums. One Night." World Tour that hits multiple stadiums across North America. But wait, they're not alone! Sponsored by EVO ICL and presented by Live Nation, the event will also feature special guest band Lawrence, a US-based soul-pop group best known for their popular track "Don't Lose Sight." Watch the most popular siblings in the world bring their newest record, "The Album," live on stage! Don't worry, fans will also relive the era of rock edge as the legendary trio perform their famous hits ranging from the classic "Lovebug" to the fresh hit "Pom Poms" and the anthemic "When You Look Me In The Eyes"! Tickets are limited in supply, so invite your fellow JoBros enthusiasts and purchase those tickets now before it's too late!
As part of their world tour, the Jonas Brothers are performing live at Moda Center on November 9, 2023! Recently, the boyband announced that their "Five Albums. One Night." World Tour will be significantly extended for the remainder of 2023 and well into 2024. This series of shows will include the promotion of their sixth studio record, "The Album," which was released last May.
The group planned performances throughout North America for the rest of this year, with visits to Australia and New Zealand in early 2024 as well as a run through Europe and the UK in May and June. They now have more than 60 North American gigs scheduled between this month and the middle of December, following existing stops that begin with two shows over two nights at the Yankee Stadium in New York.
With an original lineup consisting of siblings Kevin, Joe and Nick Jonas, The Jonas Brothers is one of the most well-known youth bands of the new century, known for their power pop anthems with catchy hooks. Their first full-length album, "It's About Time," was released back in August 2006.
"The beauty of the band's revival was not only their acceptance of their old music that touched so many lives, but also their willingness to move forward and create new ones," Forbes shares in a review of one of their recent live performances in Los Angeles.
"On the big screen in between tracks, we saw younger theatrical versions of the brothers, with each of them encountering an emotional reunion with their younger selves. It was a subtle reminder to fans that the teenage boys were now men, happily in committed relationships and two married. And, many of their original fans had grown up too."
The Moda Center is famous for hosting a wide array of live performances, family shows, and sports events. With specially constructed acoustics and curtains, the multi-purpose arena can easily transform the large stage into an intimate setting for shows consisting of 3,000 to 6,500 guests.
Ready to take a trip down the early 2000s? Say Yes now because tickets for this run of shows will be in high demand soon! Secure your seats now while spots are available!