Moda Center | Portland, Oregon
We have sure been living in a lonely world the past year or two… but don't stop believing, the power of a nostalgic music trip will come through as iconic, arena-rock band Journey has announced "The Freedom Tour 2022", which includes a stopover at the Moda Center on Sunday 27th March 2022. Joining them as a special guest in this sonic joyride will be the equally electrifying punk rock champion, Billy Idol. Fiercely loyal fans from both camps are sure to welcome them with open arms and make a mad dash for tickets to the show. The best time to get tickets is now! Click on the 'Get Tickets' link on this site to secure your seats and lock them in right here, right now!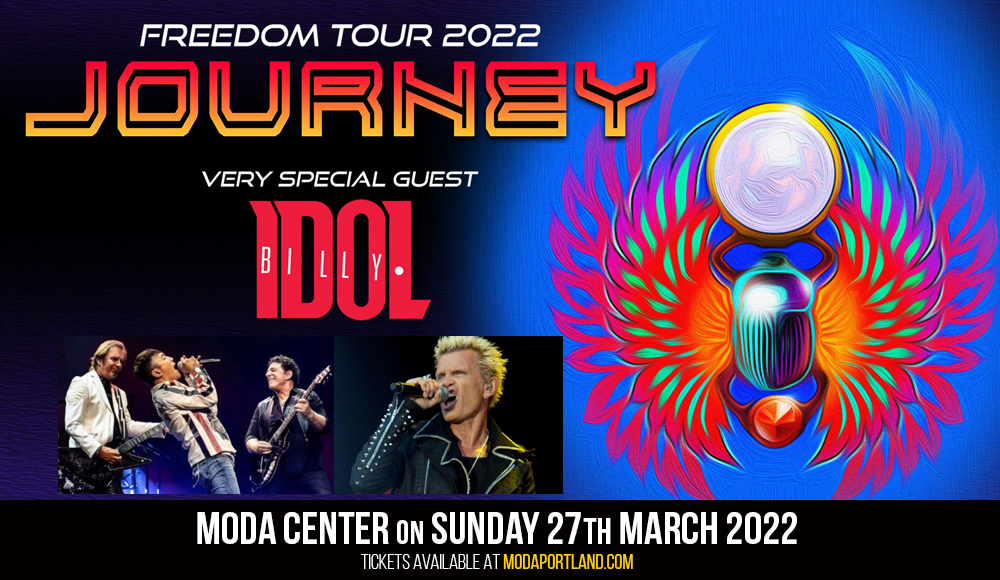 They made their mark in the '80s with spandex, spikes, and of course, songs that shook the world. Fashion trends, artist image, and styles may have come and gone, but the songs of Journey and Billy Idol have never gone off the air. Their definite sound remains relevant and still rocks on various music platforms.
Formed in San Francisco in 1973, Journey had their biggest run of commercial success between 1978 and 1987, at the time when Steve Perry stood as lead vocalist for the band. His distinctively soaring vocals and the band's intense and explosive sound propelled Journey to dizzying heights of chart-topping hits and amassed massive amounts of record sales. Journey has twenty-five gold and platinum albums, in addition to the fifteen-time platinum RIAA Diamond Certified, 1988's Greatest Hits album. The Recording Industry Association of America certifies Journey has sold 48 million albums in the U.S., making them the 25th best-selling band. Their worldwide sales have reached over 80 million records globally, making them one of the world's best-selling bands of all time. Some of their biggest hits include "Open Arms", "Separate Ways", "Any Way You Want It", "Wheel in the Sky", and the anthemic "Don't Stop Believing". Originally released in 1981, "Don't Stop Believing" made a monumental resurgence which in 2009 became the top-selling track in iTunes history among songs not released in the 21st century.
With Journey and Billy Idol sharing the stage, a nostalgic blast from the past is guaranteed for all.
"It's that time — time to get back to where we are used to being — onstage! We are looking forward to shifting into high gear and bringing you the best show possible. The band is running on all 12 cylinders and very excited! Please come and join us once again for an evening full of rocking stage connection fun. See you soon, friends," said Journey guitarist Neal Schon about the upcoming "Freedom Tour."
Billy Idol added, "Touring next year with Journey is going to be great fun! An epic night you won't want to miss. I'm excited to get back to so many wonderful cities and I'm bringing Steve Stevens and the rest of the Billy Idol band with me!"
The journey to this exciting show starts once you click that 'Get Tickets' link. Book this show now!