Moda Center | Portland, Oregon
The iconic Jurassic world franchise is heading out on a 2023 LIVE tour for fans of all ages! Join the adventurous, electrifying and action packed experience this summer, with all your favourite Dinos in life sized, realistic form….Roaming the famous Isla nublar through a journey to save the dinosaurs from evil hands! Jurassic World Live Tour comes to Moda Center, Portland on Saturday 24th June 2023 for the most thrilling family day out around!
Get the whole family entertained and on the edge of their seats with the most stunning effects and talent, an atmosphere like no other! To secure your seats for this Jurassic day out in June, simply click on the 'GET TICKETS' link now….But don't hang around, they'll be gone before you can say prehistoric!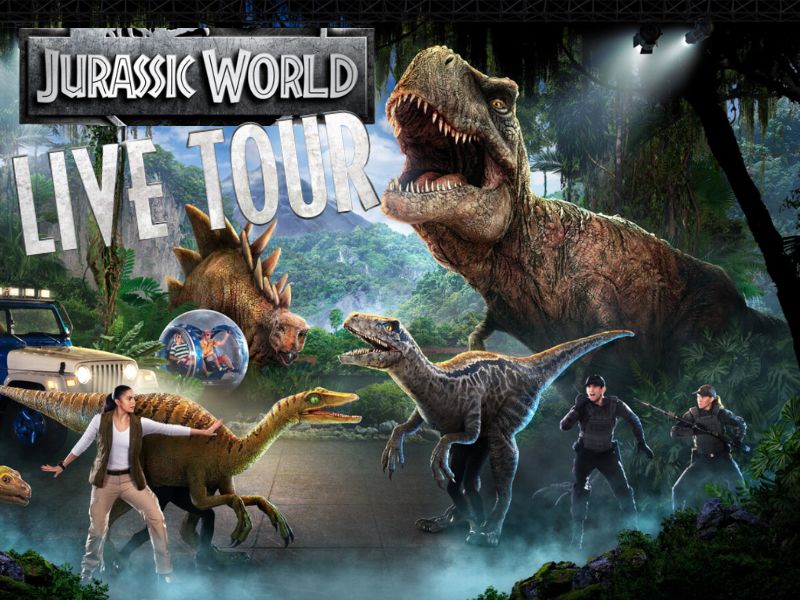 If you're looking for an adventurous day out suitable for the whole family this summer, why not head down to Moda Center at the Rose Quarter on Saturday 24th June 2023…why? Well, we have an exotic, trip to the iconic Isla Nublar waiting for Jurassic World fans of all ages! You've probably seen Jurassic World Live Tour popping up on your socials and the internet and wondered what the deal is with this alternative and interesting experience, well heres the low down….
As the story begins you'll be taken through this exciting and dynamic journey to save a doomed dino before its too late, will the rangers be successful in tracking down and putting a stop to the evil corruption? A Live show, an interactive experience, life size dinosaurs, an action packed, jaw dropping comedic adventure…..With stunts and out of this world effects, Jurassic world live is totally unmatched to any show out there and with only a few dates available, tickets are becoming extinct faster than a T-rex chasing its prey!
As Jurassic World Live Tour heads to Portland this June, the dinosaurs train for their full stage production, out of hibernation and into the spotlight of their home land Isla Nublar and a sea of excited fans in the studio, the atmosphere is going to be nothing short of electrifying….Jurassic fans of all ages will be there to soak up the prehistoric feels…so hurry up and grab tour tickets now, don't miss out on the seats you really want, closer to the action and adventure! Click on the 'GET TICKETS' link now and secure in advance for this summer!