Moda Center | Portland, Oregon
Head on down to your favourite dino packed tropical island, the legend that is Isla Nublar! Thats right the Jurassic franchise is back with a LIVE tour featuring the most realistic and breathtaking dinosaurs, an explosive and action packed narrative and some of the most stunning effects you'll have seen! Jurassic world live will be absolute mayhem, wild jurassic birds flying over head while an array of your best loved Dinos prowl the lower lands on floor level….The kids will go wild with excitement and fascination for the greatest family friendly event this summer!
The highly rated, Jurassic World Live Tour comes to Moda Center on Sunday 25th June 2023 get tickets to this action packed show right away, why not surprise the whole family with this priceless day out..simply click on the 'GET TICKETS' link above now!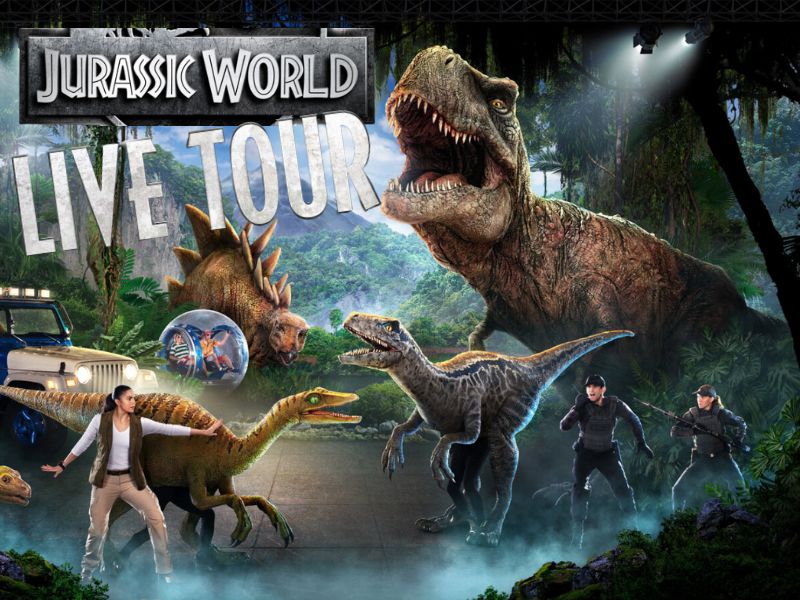 Family days out don't come much better than JURASSIC WORLD LIVE this summer….The interactive action packed show will have the whole arena on the edge of their seats as realistic Dinos tear around! With the most jaw dropping effects and stunts, this hour long, family friendly experience leaves nothing to spare. As you embark on a trip to the iconic Isla Nublar, you'll see no end of action, and be entranced with the fascinating and life like dinosaurs….
Reviews for the adventure and stage show are consistently hitting the ball out of the park, adored by families with kids of all ages and even adults looking for a bit of Jurassic park nostalgia from their favourite childhood films — it's a must see, must do for fans of the jurassic franchise, 2023 brings a thrilling and unparalleled day out for all, this is NOT to be missed.
See Bumpy, scary Raptors, your favourite..the Stegosaurus, Triceratops and not forgetting the infamous Tyrannosaurus rex! A mixture of puppeteers and life sized Dinos, the show offers an alternative to the regular exhibition or stage show, once you take your seats and enter the jurassic world, you'll be catapulted into the world outside of reality, June cannot come quick enough!
The dino-tastic event at the well known Moda Center at the Rose Quarter in Portland will take place on Sunday 25th June 2023. Tickets are available right away so to ensure you pick up the ones you've got your eye on, click on the 'get tickets' link now, don't miss this chance, treat yourself…threat the whole family, go on, click to 'get tickets' now!