Moda Center | Portland, Oregon
Hey Rockers, Hey Metal heads, Are you ready to ROCK? Are you ready to JUMP? Are you ready to for the MOSH? KORN are fresh out of the studio with their 13th album, The Nothing. KORN are playing the Moda Center on Thursday 27th February 2020, with co-headline band Breaking Benjamin! Also, with a HEAVY new album on the way! And special guests for this show, Bones UK. Buy your tickets now! This is going to sell out fast! With only 25 dates lined up for North America and Canada, you DO NOT WANT TO MISS THIS SHOW!!!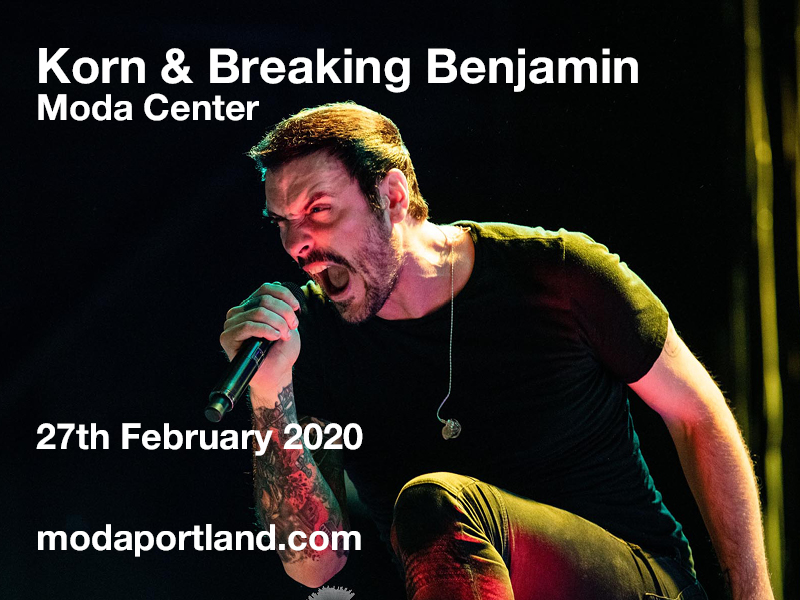 The Nothing, the 13th album from KORN, as ever a lot of the lyrics in their albums comes from real life, in Jonathan Davis own words;
"I went through hell last year and had to purge what I was going through and bring the listener through that experience. I don't know how to explain it but it takes me over. When you hear me break down and cry, that's not fake. It's how I get it out. Some people go to a shrink. My music is that for me."
"Over atmospheric NIN-like piano and towering drums, he exposes his guilt-stricken soul in a final confessional. As the swell fades away, he weeps, "I failed, I failed." It's one of the saddest moments in their catalog, a low point that ironically elevates this album to one of their strongest statements. Korn have always excelled at pain, but with The Nothing, this is the most authentic it's ever been." – Allmusic.com
With co-headliners Breaking Benjamin this is going to be an emotional show at Moda Center, At the time of writing Breaking Benjamin's brand-new album is slated for release on Jan 24th just 3 days before this show! You can bet there will be some fresh songs being performed that you haven't heard before and in keeping with Breaking Benjamin Angry style.