Moda Center | Portland, Oregon
Watch out 'cause the 'big grrrl is back with a brand new record! Lizzo just released her highly-anticipated "Special" album which features her new banger "About Damn Time". It's also been 'about damn time since Lizzo went on a headlining tour, so she's kickstarting The Special Tour with a very special guest, one of the country's hottest rappers – Latto. The headlining tour is making a stop at Moda Center on Thursday, 10th of November, 2022. With a big new album fresh off the shelves by the one and only 'big grrrl Lizzo making waves across the globe, you can't miss out on this special night at The Special Tour happening at Moda Center. Get ready to sing along to her hottest bangers, biggest hits, and fresh new tracks performed live on stage by booking your tickets now!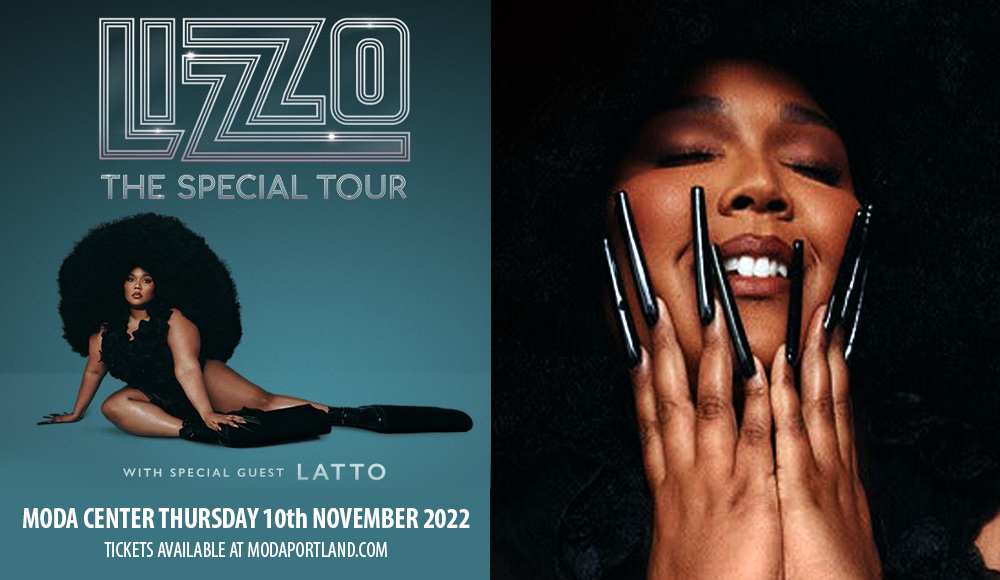 After taking a DNA test and finding out she's a '100% that bitch' in her viral sleeper hit "Truth Hurts", the genre-bending goddess Lizzo is back with a big new record "Special" which features her 2022 hit "About Damn Time". With a new record off the shelves, it definitely is 'about damn time that Lizzo throws in a big headlining tour in support of her new album. She's set to bring The Special Tour with Latto to the stage at Moda Center on November 10th.
After the success of her highly acclaimed RIAA Platinum album "Cuz I Love You", Lizzo's back in the game with a 'special record. The Guardian notes that the album is "pop gold forged by a supreme force of charisma". Lizzo recently featured in a cover story for ELLE, wrapped up in the iconic Balenciaga caution tape that Kim Kardashian wore.
She posted a behind-the-scenes video of herself attempting to dance the viral TikTok choreography to her hit single "About Damn Time". "IM A RIDICULOUS HUMAN… JUST STREAM 'ABOUT DAMN TIME' AND DONT ASK ANY QUESTIONS," she wrote on Instagram.
Talking about her new album "Special", she expressed that she wanted to make a record "that people can use as a soundtrack to survive". "All of these incredible songs are giving people the language to express themselves and to have a release after everything they've experienced," she added.
Since 2013, Lizzo has been dropping bangers – starting it off with her debut album "Lizzobangers". She's highly acclaimed for her genre-bending craft with music that exudes influences of hip hop, funk, R&B, and soul. She's highly respected in the industry for standing up for topics of body positivity, sexuality, and diversity. In a statement where she talked about her album Big Grrrl Small World", Lizzo said "You can wake up and change many things about your appearance, but the inevitability of waking up in your skin is what unifies us".
Lizzo's biggest hits include her sleeper hit "Truth Hurts" which is now certified 7x Platinum by the RIAA, "Good as Hell" which has a version featuring Ariana Grande, "Rumors" featuring Cardi B, "Boys", and "Juice".
Don't miss out on The Special Tour with special guest Latto by booking your tickets now!