Moda Center | Portland, Oregon
If the epic lineup of Machine Gun Kelly's "Mainstream Sellout Tour" doesn't excite you, then we never know what will. The "Emo Girl" hitmaker will tour North America and Europe with Willow, Avril Lavigne, Blackbear, Travis Barker, and many other important artists! Isn't that insane? Well, we are down for some insanity and great music this Thursday, July 21, at the Moda Center, Oregon. Whether you are into his hiphop music or his new poppunk sound, this concert is for you. Check out tickets now for you and the entire gang because you don't want to miss jamming with the one and only Machine Gun Kelly! Click on the "Get Tickets" button to order now!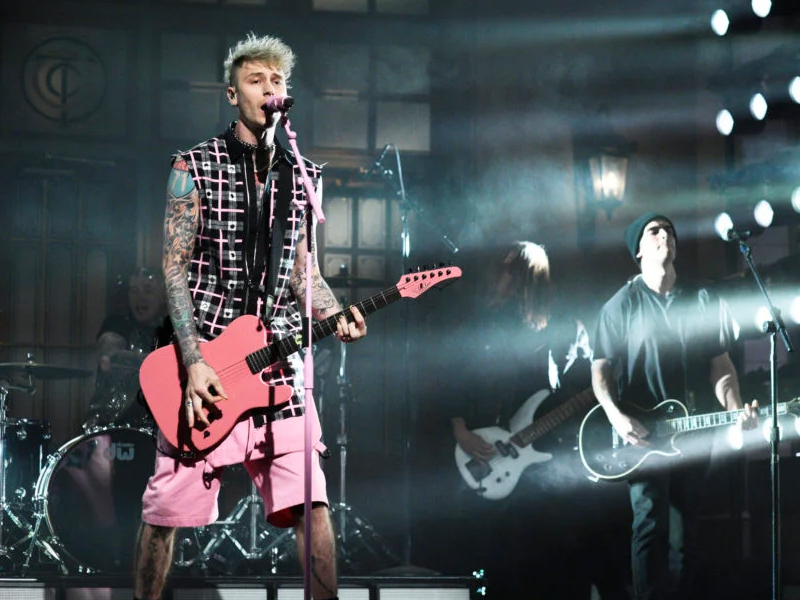 The success of Machine Gun Kelly's complete departure from hiphop may be one of the best things that have happened in the punk-rock music scene in recent years. Others may disagree about this, but MGK's commercial success would support this claim. Not to mention the positive critical reception his monumental album received from many critics worldwide. Thus, it's no surprise that this became his first album certified platinum by the RIAA.
In addition, it debuted at number one on the Billboard 200, the only rock album to do so that year, and contained the single "My Ex's Best Friend," which reached number 20 on the Hot 100.
Thanks to this complete departure from his rap sound, we are now enjoying a more pop-punk-driven Machine Gun Kelly. Maybe we won't see the promising collaborations with Bring Me the Horizon, Willow, Lil Wayne, blackbear, iann dior, and Gunna in his latest album "Mainstream Sellout."
Along with the release of the "Mainstream Sellout" album is Machine Gun Kelly's announcement of a North American and European tour. The extensive tour will feature eight different opening acts, varying by venue, some of which are frequent collaborators of Machine Gun Kelly and are featured in his new album. These opening acts include Blackbear, Iann Dior, Avril Lavigne, Pvris, Trippie Redd, Willow, and Travis Barker of Blink-182. To say that this will be a jam-packed concert season for the 31-year-old artist is an understatement. It is going to be E-P-I-C!
The 38-date North American tour will make a stop at the famous Moda Center in Portland, Oregon. He will be joined by the Pop Rock Queen Avril Lavigne and Billboard Chart-topper Willow Smith. Avril has always been a household name in the pop-rock music scene since the early 2000s. Her hits "Complicated" and "Sk8er Boi" propelled her to worldwide stardom. Since then, she has given the world one hit after another. Willow, on the other hand, is the daughter of the movie star Will Smith. She launched her music career in 2010 with the catchy single "Whip My Hair," which peaked at number 11 on the Billboard Hot 100.
Catch these incredible ladies to perform with Machine Gun Kelly this Thursday, July 21, 2022. Secure your tickets here and be ready to have the best summer concert experience!