Moda Center | Portland, Oregon
The concert sensation Mumford And Sons & Portugal The Man to Portland Oregon on Monday 5th August 2019! With their talent, limitless energy, and raw passion to each and ever appearance – Mumford and Sons sure know how to give a mind blowing show that will leave every person in the crowd in awe! Tickets are selling fast for this solid line up so grab yours quick to be a part of the exciting night!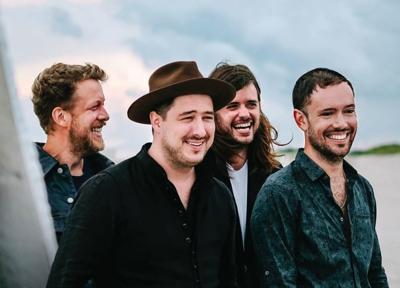 There's only a few artists along the way that become ultimate sensations, known for their groundbreaking effortless sound that is like nothing ever heard before! Mumford and Sons are up there in the list of bands that will always remain there. First formed back in 2007, the British Folk Rockers, came to light with Marcus Mumford (lead vocals, electric guitar, acoustic guitar, drums), Ben Lovett (vocals, keyboard, piano, synthesizer), Winston Marshall (vocals, electric guitar, banjo) and Ted Dwane (vocals, bass guitar, double bass).
Together they transformed the music scene, giving to the world countless, mind blowing singles and live performances that have been unforgettable ever since! Mumford & Sons have released four studio albums: Sigh No More (2009), Babel (2012), Wilder Mind (2015) and Delta (2018).
2019 brings more dates to support their most recent album release, Delta which has exploded on the scene and gained them even more fans to add to their dedicated following – if that was even possible! Get ready for an explosive, heart warming, eye catching, intoxicating, thriving performance as Mumford and Sons come to a venue near you this Summer!!
"From the deck of this planet-bound vessel, Marcus Mumford and his crew of notional sons launch what they call "by far the most ambitious show we've put together yet" in support of their new album, Delta. It's so ambitious it has forced the London folk-rock quartet to reschedule several UK dates to give them time to iron out "unforeseen technical and logistical challenges"
"Barrel-chested vocalist Marcus Mumford wasted no time in making the rectangular, arena-centered stage his own. When he wasn't commencing concert proceedings with the hard-strummed, slow-building "Guiding Light," the main Mumford was running to man sets of drums (on "Lover of the Night"), leap into crowds, flash video cameras at the audience and beam like a genial host. He wasn't ham-fisted or unsubtle about his outward reach (a la the similar-sounding Chris Martin). It was as if Mumford had opened his arms wider than usual to embrace his crowd, and they flocked and nestled comfortably, even to his surprise. "You guys are amazing," he told the Philly audience, with what seemed like genuine shock, awe and warmth."