Moda Center | Portland, Oregon
If you missed Panic! At the Disco's previous concerts, this is your chance for redemption –– vengeance, if you will. Time to shout Viva Las Vengeance this Saturday as you attend the show of Brendon Urie and the rest of his band as they rock Moda Center on October 15. Get ready for an electrifying concert experience intensified by Urie's hyperactive antics on stage. Get your tickets now and prepare to sing along to P! ATD's greatest hits, such as "I Write Sins Not Tragedies," "This Is Gospel," "High Hopes," and many others. Be among the first to witness Brendon perform the songs from the new album "Viva Las Vengeance." Joined by MARINA and Jake Wesley Rogers, this concert is sure to be a hit for all P!ATD fans! Secure your tickets here by clicking the "Get Tickets" button. See you at Moda Center.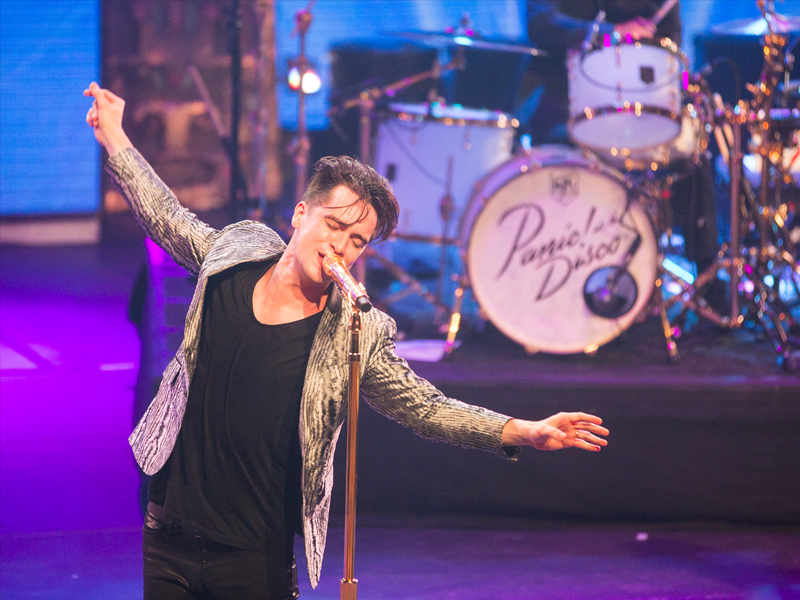 Formed in 2004, Panic! at the Disco is a pop-rock band from Las Vegas, Nevada, which gained popularity early in their career with the debut album "A Fever You Can't Sweat Out." The song "I Write Sins Not Tragedies" became the career-defining song for the band and propelled them to national and international recognition. Since then, the band has released several albums and toured worldwide. The band has also cycled through various members while retaining the familiar pop-rock sound and revved-up instrumentals that made them popular over the years. Since 2016, the band has become a solo project of Brendon Urie. He released the albums "Death of a Bachelor" in 2016 and "Pray for the Wicked" in 2018.
This year, Panic! at the Disco has announced their "Viva Las Vengeance Tour" to support the upcoming seventh album of the same name. Brendon Urie, along with his touring band, will tour around the US and Canada. The North American tour will kick off at Austin, Texas's Moody Center on September 8. The trek will make a stop at Portland's Moda Center on October 15, with MARINA and Jake Wesley Rogers as special guests. MARINA is a Welsh singer-songwriter who is known for her song "Can't Pin Me Down," "Primadonna," and "How to Be a Heartbreaker." Jake Wesley Rogers, on the other hand, is an American pop musician and songwriter known for songs like "Middle of Love," "Momentary," and "Weddings and Funerals." Catch these incredible acts with Panic! at the Disco at Moda Center. Tickets for the show are available starting June 8. Click the "Get Tickets" button to reserve your tickets now.