Moda Center | Portland, Oregon
Moda Center is proud to present the very best in entertainment, and this event is no exception! Make sure you see the sensational Radiohead on Sunday 9th April 2017 – it's going to be one hell of a show! Believe the hype! Tickets on sale now! Get yours today!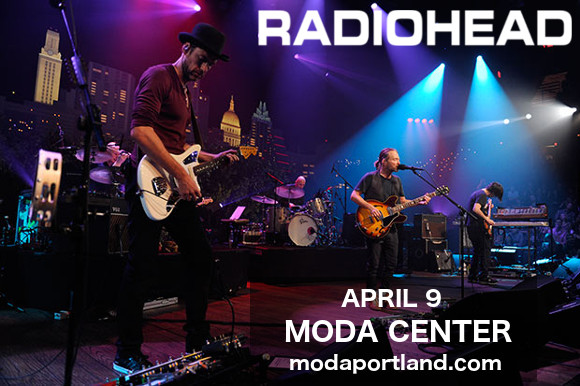 Formed of singer, guitarist, keyboardistand principal songwriter Thom Yorke, keyboardist and guitarist Jonny Greenwood, guitarist Ed O'Brien, bassist Colin Greenwood, and drummer Phil Selway in 1985, and released their debut album "Pablo Honey," which saw massive success of the single "Creep," released from the album a year prior. Their second album, "The Bends," increased their popularity in the United Kingdom, whilst their third, "OKComputer," pushed them to worldwide global success. Dealing with themes of alienation and isolation in the modern world, it is viewed as a landmark record of the 1990s and as one of the best musical albums ever recorded!!
Following this massive success, Radiohead started to experiment with new styles, with influences from electronica, krautrock, jazz, and classical music, giving rise to the albums "Kid A," and "Ammnesiac." initially dividing listeners, "Kid A" was named later by Rolling Stone, Pitchfork and the Time as the best album of the decade. With sales of over 30 million albums worldwide, Radiohead are widely seen as one of the most influential and important acts in popular music, with their legacy going on to inspire countless other artists.
Don't miss your chance to catch this truly iconic band live – get your tickets to see Radiohead NOW while they last!!