Moda Center | Portland, Oregon
Celebrating the release of his fourth solo album Chip Tooth Smile, renowned singer, songwriter and Matchbox 20 frontman Rob Thomas comes to Moda Center on Friday 14th June 2019 on the Chip Tooth Tour! The Grammy Award-winning artist will be performing a whole host of brand new material, including his recent single "One Less Day (Dying Young)"! He'll also be joined in supprt by the incredible Abby Anderson!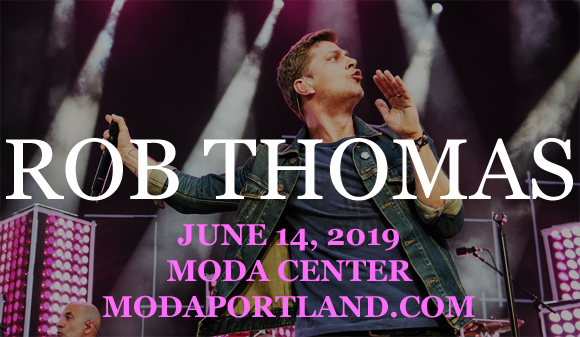 American singer, songwriter, record producer and multi-instrumentalist Rob Thomas rose to fame as the lead singer of soft rock group Matchbox 20, who have had several hits, including: "Push", "3AM", "Real World", "Back 2 Good", "Bent", "If You're Gone", "Mad Season", "Disease", "Unwell", "Bright Lights", "How Far We've Come", and "She's So Mean". Thomas gained attention as an artist in his own right when he co-wrote and featured on Santana's smash hit 1999 single "Smooth", which earned him three Grammy Awards, spent 58 weeks on the Billboard Hot 100 chart and was later declared by Billboard as the number two Hot 100 song of all time. Thomas' debut solo album, …Something To Be, was released in 2005, debuting at number one on the Billboard 200 and launching three hit singles. It also earned him two Grammy Award nominations. To date, Thomas has released four solo albums, including his most recent, Chip Tooth Smile (2019). He has also written songs for several other artists, including Willie Nelson, Mick Jagger, Marc Anthony, Pat Green, Taylor Hicks, Travis Tritt and Daughtry.