Moda Center | Portland, Oregon
"Let's Rock". It's a call to action that may sound a bit underwhelming to some. But in the case of these bands –The Black Keys, Modest Mouse & Shannon and the Clams, this is a guttural call that sets the wheels of true rock die-hards into motion. "Let's Rock" — a tour spanning 31 key cities with headliner band The Black Keys and guest support acts Modest Mouse & Shannon and the Clams. This explosive tour de force will take them on the road and one of them leads to the Moda Center on Friday 22nd November 2019. Answer the call of this rock battle cry. Don't miss this for the world. Book your tickets now!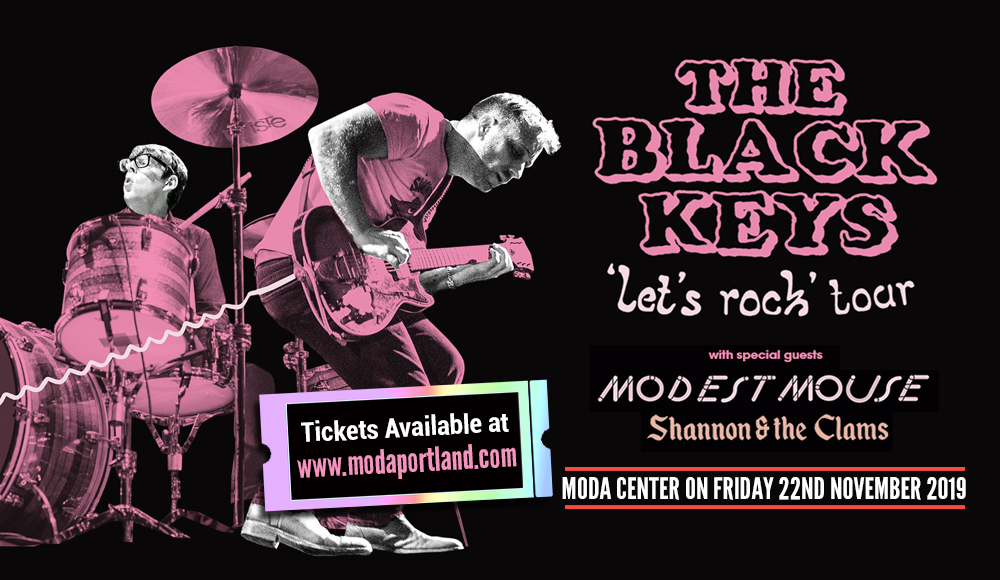 The Black Keys have been rocking on the American blues-rock scene since their formation in Ohio in 2001. The duo of Dan Auerbach (guitar, vocals) and Patrick Carney (drums) began as an independent act, recording music in basements and self-producing their records, until finally hitting the proverbial "big time" in 2010.
Their breakthrough single came in 2010 with "Brothers", plus another chart-hitting single"Tighten Up", scooped up three Grammy Awards. The Black Keys struck while the iron was hot. The follow-up "El Camino" perched atop the the Billboard 200 chart, as it garnered reviews, which then lead up to their first arena concert tour dubbed as the El Camino Tour. The Black Keys were still on a roll as their album and its hit single "Lonely Boy" bagged three Grammy Awards.
This band earned their dues so fans are now enjoying the fruits of their labor of love and gritty and gutsy musicality. Now "Let's Rock"!