Moda Center | Portland, Oregon
The Chainsmokers & 5 Seconds of Summer has declared "WORLD WAR JOY" ! They're embarking on a North American tour and they're set to conquer arenas in 41 cities of the continent. Hot off the heels of The Chainsmokers' latest single "Who Do You Love" featuring 5 Seconds of Summer, the duo dropped the bomb and it exploded on social media, trending worldwide. The excitement bomb has just detonated so fans from both sides of the camp are gearing-up by booking tickets to the show early on. In this territory, The Chainsmokers & 5 Seconds of Summer are set to seize the Moda Center stage on Thursday 5th December 2019. No need to press the panic button; instead click the 'buy tickets button' on this site. The hot ticket alert has just been raised. Don't wait 'til the last minute. Book those tickets now!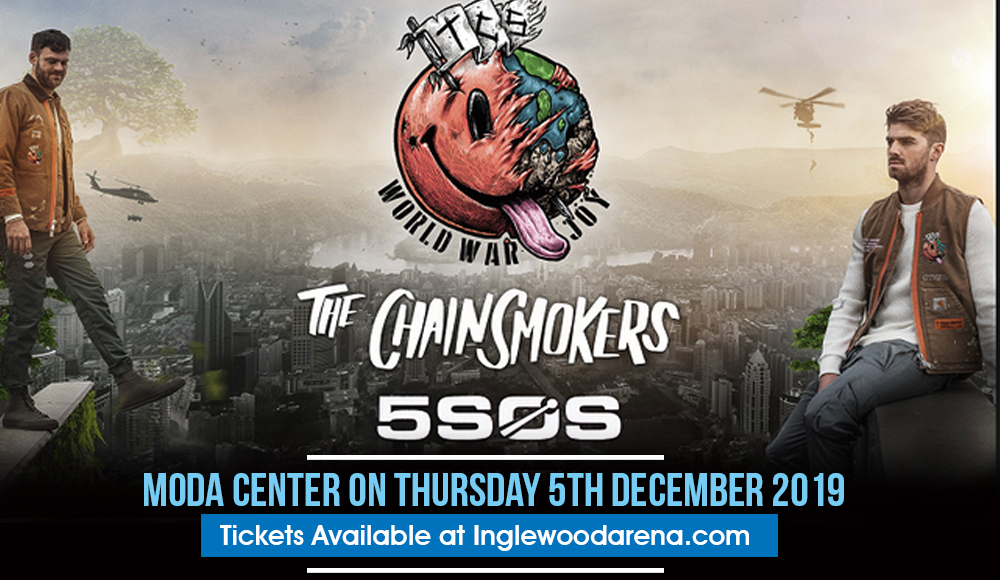 When an EDM-pop duo and a pop-rock band join forces not only on a single but also on a full-blown concert, expect nothing less than "WORLD WAR JOY" ! After dropping the single "Who Do You Love", The Chainsmokers and 5 Seconds of Summer are now on their quest for world domination, starting with a North American leg of their joint tour.
In 2014 their breakout song "#Selfie", ignited the explosive career run of now multi-platinum hitmaker, The Chainsmokers. Since then, American DJs and production duo consisting of Alexander "Alex" Pall and Andrew "Drew" Taggart scooped up a Grammy award, two American Music Awards, seven Billboard Music Awards and nine iHeartRadio Music Awards. This year, Forbes also included them in the 2019 list of highest paid celebrities, dethroning Calvin Harris after six years in throne of being highest paid DJs. The ammunition of hit-after-hit-after-hit singles came along starting with "Roses," featuring Rozes, "Don't Let Me Down" featuring Daya and "Closer," featuring Halsey, which went on to become the longest running #1 single of 2016 on the Billboard Hot 100 chart. The Chainsmokers are still riding high with their certified Platinum and #1 U.S.album which spawned the smash hits "Paris" and "Something Just Like This" featuring Coldplay.
Touted as the only band in chart history to have its first three full-length studio albums enter the chart at No. 1, 5 Seconds of Summer have solidified their reputation as a legit rock outfit as Rolling Stone proclaimed them to be the "biggest new rock act in the world". The band consist of members Luke Hemmings, on lead vocals and guitar, Calum Hood on bass guitar, Michael Clifford on guitar and Ashton Irwin on drums. Combined sales of 5SOS's self-titled debut album and 2015's Sounds Good Feels Good now exceed six million units worldwide.
The war is on! It's "WORLD WAR JOY" with The Chainsmokers and 5 Seconds of Summer. Start on ground zero by booking your tickets now!