Moda Center | Portland, Oregon
If you think you've missed out on one of the most important concerts of a lifetime, this is what your new wave music hero has to say –'"fans, don't cry'"! The Cure has extended their tour itinerary to add a couple more dates to their North American tour. Yes, you'll be well on your way to the "Shows of a Lost World" tour to catch The Cure perform on this side of town as their tour bus is dropping them off at the Moda Center on Wednesday 31st May 2023. The Cure is one of the hotly anticipated acts this concert season. Fronted by the iconic and enigmatic lead singer, Robert Smith, The Cure became one of the most influential bands that defined 80s post-punk rock. With an extensive catalog and mammoth list of hit songs to their name, The Cure has deservingly been inducted to the Rock and Roll Hall of Fame circa 2019. Don't get lost and miss the show. The 'get tickets' link on this site is the sure way to find and secure your tickets. Click to book your tickets now!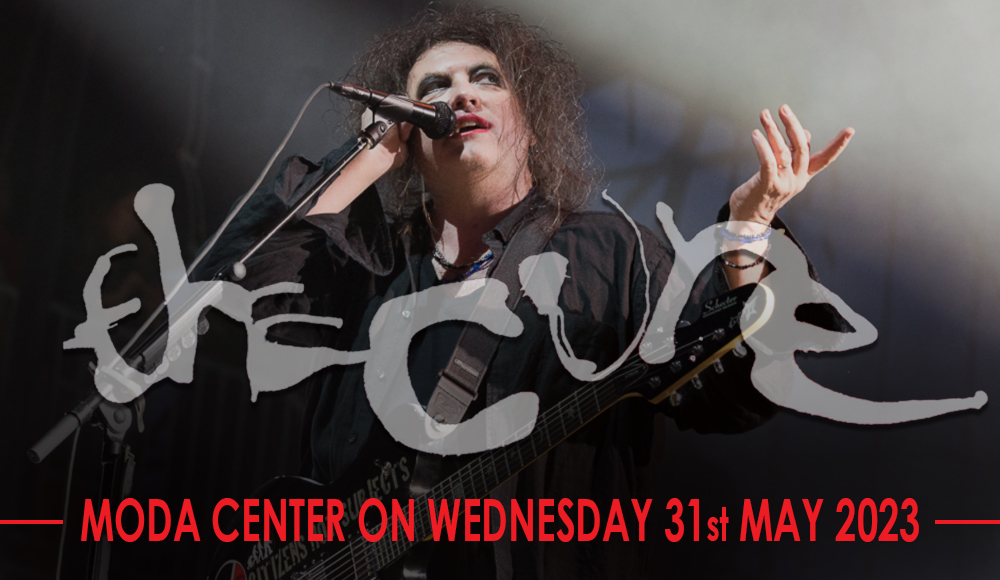 If the 80s music soundscape were to have a mural, The Cure's Robert Smith would take up a significant amount of space as you would not miss his deep and piercing dark eyeliner, a mound of tousled hair, and an all-black outfit. Indeed, he is one of the most recognizable and iconic figures in the rock music scene; but above all, The Cure has etched their indelible mark into the consciousness of Gen Xers with their music. Formed in 1978 in Crawley, West Sussex, The Cure was at the eye of the post-punk and new-wave moment that was burgeoning in the United Kingdom. Hence, they were quickly labeled as a gothic rock band. Over the years, frontman Robert Smith was vocal about his aversion to this genre classification. "It's so pitiful when 'goth' is still tagged onto the name the Cure", says Smith. "We're not categorizable. I suppose we were post-punk when we came out, but in total it's impossible … I just play Cure music, whatever that is."
The Cure's music is quickly judged as dark, moody, brooding, depressing, and gloomy. To a certain extent, yes, they have deep cuts like "Blood Flowers", "Burn", "Fascination Street", "Killing An Arab" and "Pictures of You"… Yet The Cure has yielded a distinct number of upbeat and poppy love songs that have brought them colossal commercial success around the world. Rock magazine Spin stated that "The Cure have always been an either/or sort of band: either … Robert Smith is wallowing in gothic sadness or he's licking sticky-sweet cotton-candy pop off his lipstick-stained fingers." Think "Boys Don't Cry", "In Between Days", "Friday I'm In Love", "Just Like Heaven", "The Lovecats", or "Lovesong"… Indeed, they're an immensely successful mainstream band that have sold over 30 million albums on a global scale. The Cure has also been recognized by almost every major music award-giving institution. The band bagged two Brit Awards (Best British Video for "Lullaby" in 1990, and Best British Group in 1991), and a Viewer's Choice (Europe) MTV Video Music Award for "Friday I'm In Love" in 1992, while Robert Smith picked up an Ivor Novello Award for International Achievement in 2001. Then in 2019, The Cure gained important recognition was they were inducted into the Rock and Roll Hall of Fame 2019.
The Cure's music is timeless, boundless, resonating from Gen-X to Gen-Z and beyond. The Cure's "Shows of a Lost World" is best experienced with the whole gang in tow. Give 'em the mosh pit experience of a lifetime! Book your tickets now!