Moda Center | Portland, Oregon
A holiday institution and rock theater extravaganza, Trans-Siberian Orchestra comes to Moda Center on Saturday 23rd November 2019 on the all-new Christmas Eve and Other Stories Tour! This larger-than-life holiday tour employs dazzling, state-of-the-art staging and special effects, alongside compelling progressive rock, accompanied by a symphony orchestra and choir, to create a festive spectacle you'll never forget! TSO's 2019 show harks back to their debut album, Christmas Eve and Other Stories, but with a never-before-seen stage show that will leave you blown away!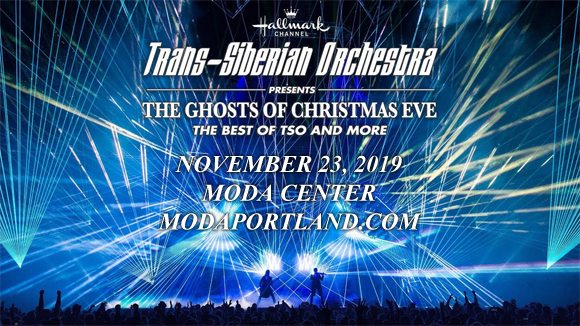 An enduring holiday-themed rock opera tour that has successfully travelled the world for the past fifteen years, Trans-Siberian Orchestra is a New York-based production that marries the vision of dearly departed rock producer Paul O'Neill (including Aerosmith, Humble Pie, AC/DC, Joan Jett, and Scorpions) with a 60-piece symphony orchestra and chorus. The core creative team consists of former Savage members Jon Oliva and Al Pitrelli and keyboardist and co-producer Robert Kinkel, and the group released its debut album, Christmas Eve and Other Stories, in 1996. Trans-Siberian Orchestra has released nine studio albums throughout its career, including five Christmas albums and one Christmas compilation album, and has sold over ten million album units and over ten million concert tickets. The band has been named by both Billboard Magazine and Pollstar as one of the top ten ticket-selling bands in the first decade of the new millennium.