Moda Center at the Rose Quarter | Portland, Oregon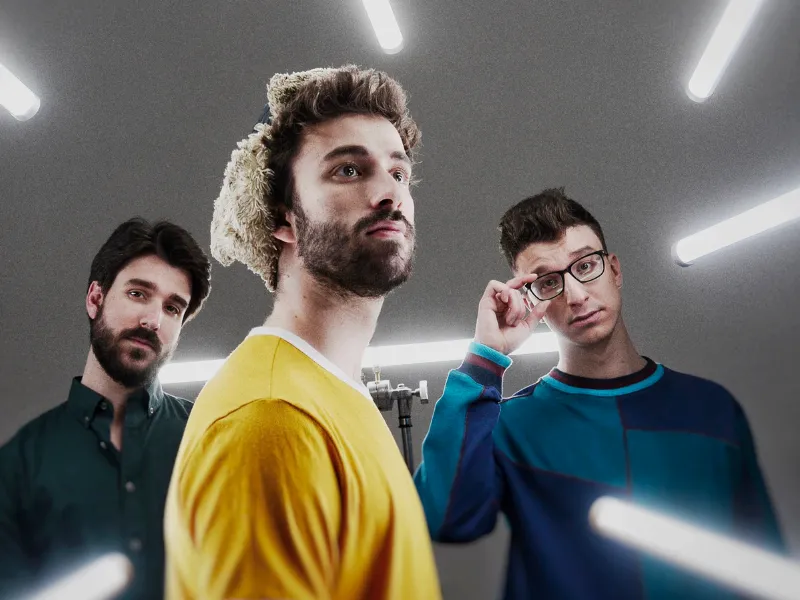 Indie pop trio AJR announced a massive arena tour all mapped out for 2024. This exciting tour is in support of their newly-released album, "The Maybe Man." The tour is stopping in 43 cities across North America, including a highly anticipated stop in Portland, Oregon. For AJR fans in the area, you better secure your tickets to the show right now!
AJR will bring the show live to the Moda Center on Wednesday, the 24th of April, 2024. The band's ready to give everyone a blast and an unforgettable time when they all attend this show! Get ready to sing and dance along to the band's newest and greatest hits. This is a show you wouldn't want to miss!
Go get your tickets to see AJR in Portland today. The show is selling out fast, so hurry and click 'GET TICKETS' before the show sells out!
AJR is this awesome indie pop band from New York, made up of three brothers – Adam, Jack, and Ryan. The cool thing is, they do it all themselves – writing, producing, and mixing everything right in their living room in Chelsea, Manhattan. How chill is that?
So, the brothers range in age from 25 to 32, and they've been at this since the youngest, Jack, was still in high school. Talk about a talented family! They've got this unique thing going on where they keep it all in the family – from songwriting to playing instruments. Sometimes, they bring in jazz trumpeter Arnetta Johnson and drummer Chris Berry to join the party. They also used to have another trumpeter, Jimmy Lee Jr, but he's off pursuing his own thing now.
AJR's been dropping albums since their debut, "Living Room," in 2015. Then came "The Click" in 2017, followed by "Neotheater" in 2019. And guess what? Their fourth album, "OK Orchestra," hit streaming platforms in 2021. Their latest, "The Maybe Man," just dropped on November 10th, 2023. AJR's definitely keeping the good vibes coming.
They're hitting the road for a massive arena tour in support of their latest album, "The Maybe Man." Starting April 2nd in Norfolk, Virginia, they'll be making their way through 43 cities. They're hitting up awesome spots like Boston, Austin, San Francisco, LA, Nashville, and even their hometown, New York City. Making things more exciting is the fact that they're stopping right in Portland!
Need To Know: $1 from every ticket sold on the tour is going to Planet Reimagined, a nonprofit co-founded by Adam Met. They're all about training future climate leaders through customized fellowships.
Mark the date on your calendars because AJR is coming to perform live at the Moda Center on Wednesday, the 24th of April, 2024. It's time to make plans to attend this show with all your fellow AJR fans! If you don't have tickets to the show yet, you may secure them right now by clicking 'GET TICKETS.' Remember to be quick before the show sells out!