Moda Center at the Rose Quarter | Portland, Oregon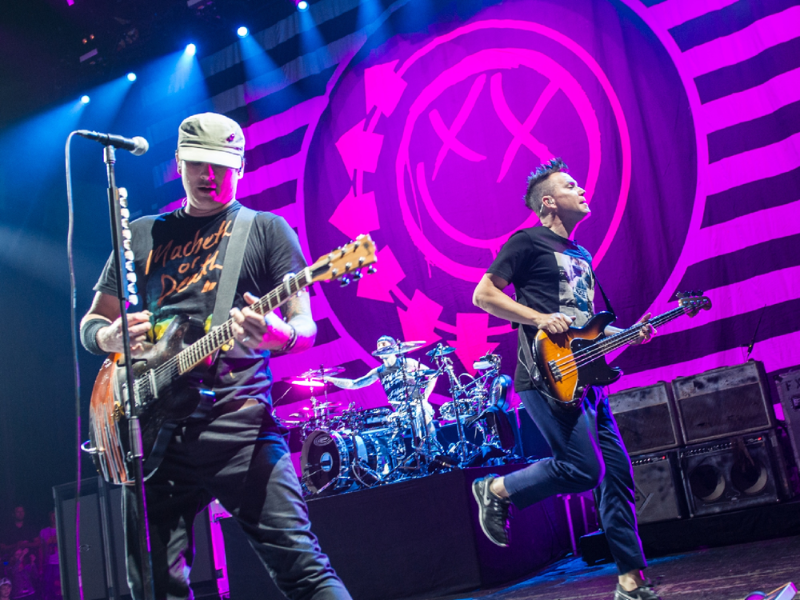 Blink-182's back baby, and they're letting hell loose on Saturday, July 13, at the Moda Center with Pierce The Veil! After his fated exit in 2015, Tom DeLonge reunites with bandmates Mark Hoppus and Travis Barker for their ninth studio album, One More Time, supported by a Summer 2024 national tour. The album features two Billboard Alternative Airplay number one songs, "Edging" and a nostalgic titular track, which we expect will make their live show debuts during the tour's 30-city trek. Blink-182 is the multi-awarded figure behind pop punk's evolution during the '90s and early 2000s. Their legendary third album, Enema of the State, took the rebellion overseas and clinched multi-platinum status with MTV staples like "Adam's Song." The Take Off Your Pants collection would continue the band's momentum two years later, introducing chart-busters "The Rock Show" and "First Date." Catch their show at Portland's Moda Center, a premier indoor arena where Blink-182's bops can rise to scary new levels thanks to state-of-the-art acoustic technology. Get your tickets now!
Feel the thrill of Blink-182's pop-punk riffs ONE. MORE. TIME. as the multi-platinum trio lands at the Moda Center for a Saturday soundfest on July 13th! Summer of '24 is gearing up to be one for the books with this Live Nation-produced tour, featuring Pierce the Veil. In support of their new album, Blink-182's North American trek will visit 30 cities following an extensive international stint covering Australia, New Zealand, and Latin America.
One More Time, the group's ninth studio album, dropped last October, marking the long-overdue reunion of frontman Mark Hoppus, guitarist Tom DeLonge, and drummer Travis Barker since DeLonge's departure in 2015. Blink-182's longest album to date, it showcases 17 tracks, including two Billboard Alternative Airplay no.1 hits—the title track and "Edging." See below for the album's complete track listing.
Anthem Part 3
Dance with Me
Fell in Love
Terrified
One More Time
More Than You Know
"Turn This Off!
When We Were Young
Edging
You Don't Know What You've Got
Blink Wave
Bad News
Hurt (Interlude)
Turpentine
Fuck Face
Other Side
Childhood
"The Californians' anthems fully embody both the pop and punk of pop-punk, fusing the puerile rebellion of the latter to hooks so accessible that mainstream TV and radio couldn't not broadcast them to millennials everywhere."
Born from suburban San Diego, these punk icons defined the musical taste of rebellious early 2000s kids with their highly influential third album, Enema of the State. It gained multi-platinum status selling over 15 million copies worldwide, while conquering airwaves with MTV-certified hits such as "What's My Age Again?" and "Adam's Song." Their follow-up album, Take Off Your Pants, launched to similar commercial and critical success, earning the record of being Billboard 200's first-ever punk rock number one debutante thanks to chart-topping singles like "The Rock Show" and "First Date." Five albums later, Blink-182's legacy has been reaffirmed through numerous music awards, which include two Kerrang! Awards, three Teen Choice Awards, and ten San Diego Music Awards.
Multi-awarded, platinum-selling "mexicore" band Pierce the Veil will open the show and jam with our headlining act. They're best known for their Billboard 200 Top 12 hit single, "King for a Day," and more recently, their Billboard Top Hard Rock no. 1 album, The Jaws of Life.
Portland's premier indoor arena, the Moda Center, offers the perfect atmosphere for Blink-182's comeback concert this Saturday, July 13th. Primarily a sports-hosting venue, its interior arrangements emphasize maximum visibility anywhere across the seating area, with a cutting-edge JBL sound system carrying the band's electrifying tunes straight to your core. Hit the blue button and book your tickets now!