Moda Center at the Rose Quarter | Portland, Oregon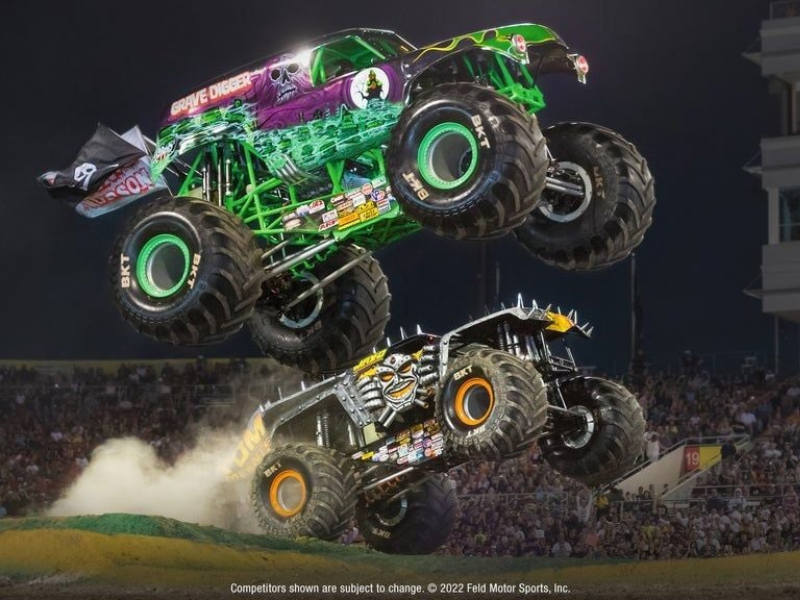 It's another wild year as a brand new season of Monster Jam is coming up this 2024! Prepare for the most gruesome and wildest battles as giant cars duel it out in the arena. The Arena Championship Series West is coming to Portland, Oregon and you mustn't miss it. It's going to be one of the most thrilling matches you've ever seen! Stay tuned for more details on the upcoming Monster Jam. Truck lineup includes Grave Digger, Megalodon, ThunderROARus, Monster Mutt Dalmatian, and Jurassic Attack. Everything's happening at the Moda Center from the 1st to the 3rd of March, 2024.
Tickets to Monster Jam at the Moda Center on Friday, the 1st of March are available here. Prepare for a wild ride as the trucks take you on an experience you'll never forget! Grab your tickets to the show right now before they sell out. Hurry and click 'GET TICKETS'!
Monster Jam is the most action-packed motorsports event on four wheels. The show features world-class driver athletes and the craziest and modded-out trucks you'll ever see. In this competition, you'll find them tearing up dirt and competing in a thrilling battle of speed and skill.
The official truck and driver lineup for Monster Jam: Arena Championship Series West are as follows:
Grave Digger - Brandon Vinson
Megalodon - Ashley Sanford
ThunderROARus - Tony Ochs
Monster Mutt Dalmatian - Bailey Shea
Jurassic Attack - Dalton Widner
*Note that trucks/drivers are subject to change. Stay updated on the latest news prior to attending the show.
Let's break down the nitty-gritty details of these Monster Jam trucks:
First off, these beasts stand tall at around 10.5 feet, stretch about 12.5 feet wide, and measure a whopping 17 feet in length. And brace yourself for this – they tip the scales at a hefty 12,000 pounds! Now, what's under the hood? These Monster Jam engines are no joke. They churn out a jaw-dropping 1,500 horsepower, all thanks to a supercharger that's on a mission to cram air and fuel into that engine. They guzzle down methanol at a mind-boggling rate of three gallons per minute, all from a super-duper safety fuel cell.
These trucks are built tough. They rock a four-link racing suspension setup with four main bars that hitch the front and rear axles to the frame. And let's talk about the shocks – they're nitrogen-charged and can handle a whopping 30 inches of suspension travel. Bumpy ride? Not for these monsters!
Now, onto those massive tires. They're like giant donuts, clocking in at a staggering 66 inches in diameter and a meaty 43 inches in width. They're pumped up to a precise 23 psi pressure, and when you toss in the wheel, they weigh a whopping 645 pounds each. Of course, the driver's safety is always taken into consideration when designing these trucks. The driver's cockpit is built like a fortress, with a solid steel structure made from sturdy tubing and bolted right onto the truck frame.
When you come to the show at the Moda Center, you'll be screaming in your seats all night long. The trucks and drivers are sure to take you on a ride you'll never forget! So, secure your tickets right now before it's too late!