Moda Center at the Rose Quarter | Portland, Oregon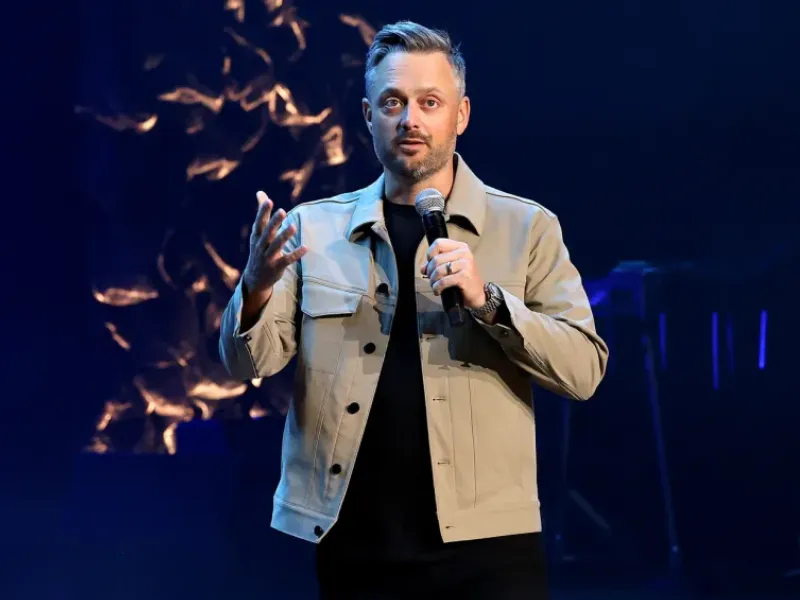 Meet comedy's soft-spoken "Everyman," Nate Bargatze, LIVE this Friday, January 26, at the Moda Center! "The Be Funny Tour" has seen an influx of eager spectators after Nate hosted an SNL episode featuring the Foo Fighters. And so, we have FORTY-SEVEN new shows for the US tour's 2024 lineup. Portland's premier sports arena lends its stage to the comedian, promising an exhilarating atmosphere akin to an NBA play-in game. Nate Bargatze is the current poster boy for family-friendly comedy! Stepping in the footsteps of the legendary Jerry Seinfeld, Nate focuses on clean but clever, joke-driven stand-up, with relatable anecdotes delivered in a hysterically dry tone. He's best known for his GRAMMY-nominated "The Greatest Average American" Netflix special, in addition to the Billboard Top Two Comedy Album, "Yelled at by a Clown." Nate also recently broke the attendance record at Nashville's Bridgestone Arena, and he's looking to break some more with his ongoing series. Come and help him out - get your tickets now!
Due to his recent Saturday Night Live hosting gig featuring the legendary Foo Fighters, venues have been filling up faster for Nate Bargatze's ongoing national stint! Dubbed "The Be Funny Tour," the road show returns to the highways after its 2023 New Year's Eve finale in Sunrise, Florida. Forty-seven new dates span January to June, with MORE shows added regularly. That said, make sure you snag some seats for the comedian's Moda Center performance this coming January 26!
"It's amazing how funny someone talking about their life experiences can be! We were crying from laughing so hard and my abs were toast! Note to self: wear waterproof mascara or skip it! Nate is so funny that we're going to see him again in January!"
Crowned by The Atlantic as "The Nicest Man in Stand-Up," Nate Bargatze vows to fill the demand for clean, family-friendly humor. A preternatural charm and wit, not to mention a hilariously monotone delivery, have earned him good standing with classical stand-up fans, proving once and for all that the only things a comic really needs are a few clever jokes and sincerity to commit.
Fairly recently, Nate made laughter erupt worldwide with his critically acclaimed Netflix comedy special, "The Greatest Average American," which was nominated in the 2022 GRAMMY Awards for Best Comedy Album. His two other specials, 2019's "The Tennessee Kid" and 2023's "Hello World" share the peak of his achievements, backed up by a couple of stand-up albums. The first one, "Yelled at by a Clown," is a 2014 Billboard Top Ten Comedy Charts second-placer, while its follow-up, "Full Time Magic," was a hit Comedy Central piece. Nate has been active for over twenty years with quite a few sold-out shows under his belt, including a record-breaking attendance at Nashville's Bridgestone Arena. And you know what? He's not done yet.
As for our venue, the Moda Center (formerly the Rose Garden) in downtown Portland will serve as the stage for Nate Bargatze's Friday night LIVE special on January 26. While primarily a sports venue, this indoor arena can perfectly adapt to any form of entertainment with its cutting-edge facilities. Most notably, its unique JBL sound system sets up dozens of acoustic panels across the ceiling, bouncing waves of laughter throughout its underlying vicinity. Hit the "Get Tickets" button now to reserve your seats!