Moda Center at the Rose Quarter | Portland, Oregon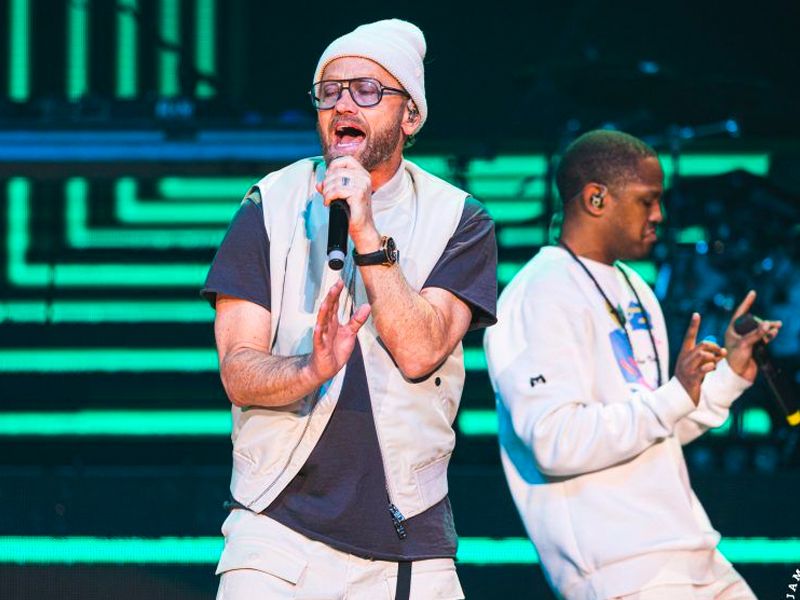 An Overflow of uplifting and inspiring music will fill the walls of Moda Center this February 18 as the multi-talented Christian hip-hop and pop sensation TobyMac brings his Hits Deep Tour to the famous Portland, Oregon, venue. This will be a faith-filled Sunday for you as you will be hearing God's word in the morning before heading to Toby Mac's concert in the evening — an evening that will be filled with energy, passion, and music of the Grammy-winning Christian artist. Gather your friends and family, head to Moda Center, and feel uplifted as Toby Mac's chart-topping hits strengthen your faith. Sing along with hundreds of fans as you sing "Me Without You," "I just need U.," "Til The Day I Die," and "Cornerstone," among many others. Known for his dynamic concert performances, Toby Mac will be joined by Cory Asbury, Mac Powell, Tasha Leyton, and Terrian. Reserve your tickets early by clicking the "Get Tickets" link.
TobyMac's approach to contemporary Christian music opened new doors for the scene. His style combines alternative and rap, genres that only sometimes come to mind when discussing Christian music. Before he grabbed the spotlight in his solo career, he was first a member of the groundbreaking trio that used hip-hop, rock, and rap in their predominantly Christian music. Then came his illustrious career as a solo artist, serving nine albums. His works in the group and solo brought him more than a handful of accolades, such as winning eight Grammy Awards and 21 GMA Dove Awards.
Tob McKeehan's music career began in college, where he established DC Talks with his friends Michael Tait and Kevin Max Smith. An album later, they broke out with their release of "Nu Thang." This success would then catapult them to stardom into the 90s. Their subsequent album, "Free at Last," became a platinum-certified hit. Still, they were warming up because their next release was a stratospheric success and etched their influence in the Christian music scene. "Jesus Freak" received positive attention and gave them a multi-platinum certification. In 2001, they decided to disband, which prompted TobyMac to pursue a solo career.
Right after the trio's end, TobyMac debuted his album "Momentum." It was praised for combining urban rap and rock, bringing him a Dove Award and a Grammy nomination. His follow-up "Welcome to Diverse City" in 2004, followed by the success of his first album, bagging another Dove Award, this time in the Rap/Hip-Hop Album of the Year category. His next big album would be "Portable Sounds" in 2007, where the Christian artist brought fresh sounds. In this album, he reached the top ten of Billboard's Top Christian Songs chart for his track entitled "Lose My Soul."
His momentum continued into the 2010s, starting with "Tonight," another consistent chart-topper and Dove Award receiver. His next album, "Eye One It," was his first EDM experimented album. It topped the Billboard 200 chart and a Grammy win for Best Contemporary Christian Music Album. He would win again for the same category in 2015 for the album "This Is Not a Test." Two more albums came after, which are "The Elements" (2018) and "Life After Death" (2022). Both are consistent chart-toppers.
Next year, TobyMac's Hits Deep 2024 Tour will commence. One of his stops will be at the Moda Center on February 18. Cory Asbury, Mac Powell, Tasha Leyton, and Terrian will perform with him. Worship pastor Cory Asbury is a Christian artist known for songs like "Goodness of God" and "Back to Life." Christian rock artist Mac Powell has moved people with his gospel rock tunes since the 90s, "Your Love O Lord" and "Cry Out to Jesus" are among his best. Dominating the contemporary niche of the Country scene is Tasha Leyton, who broke out with the song "Love Lifting Me." Last in the lineup is Terrian, a vocalist for TobyMac's band, Diverse City. See you there!