Moda Center Seating Chart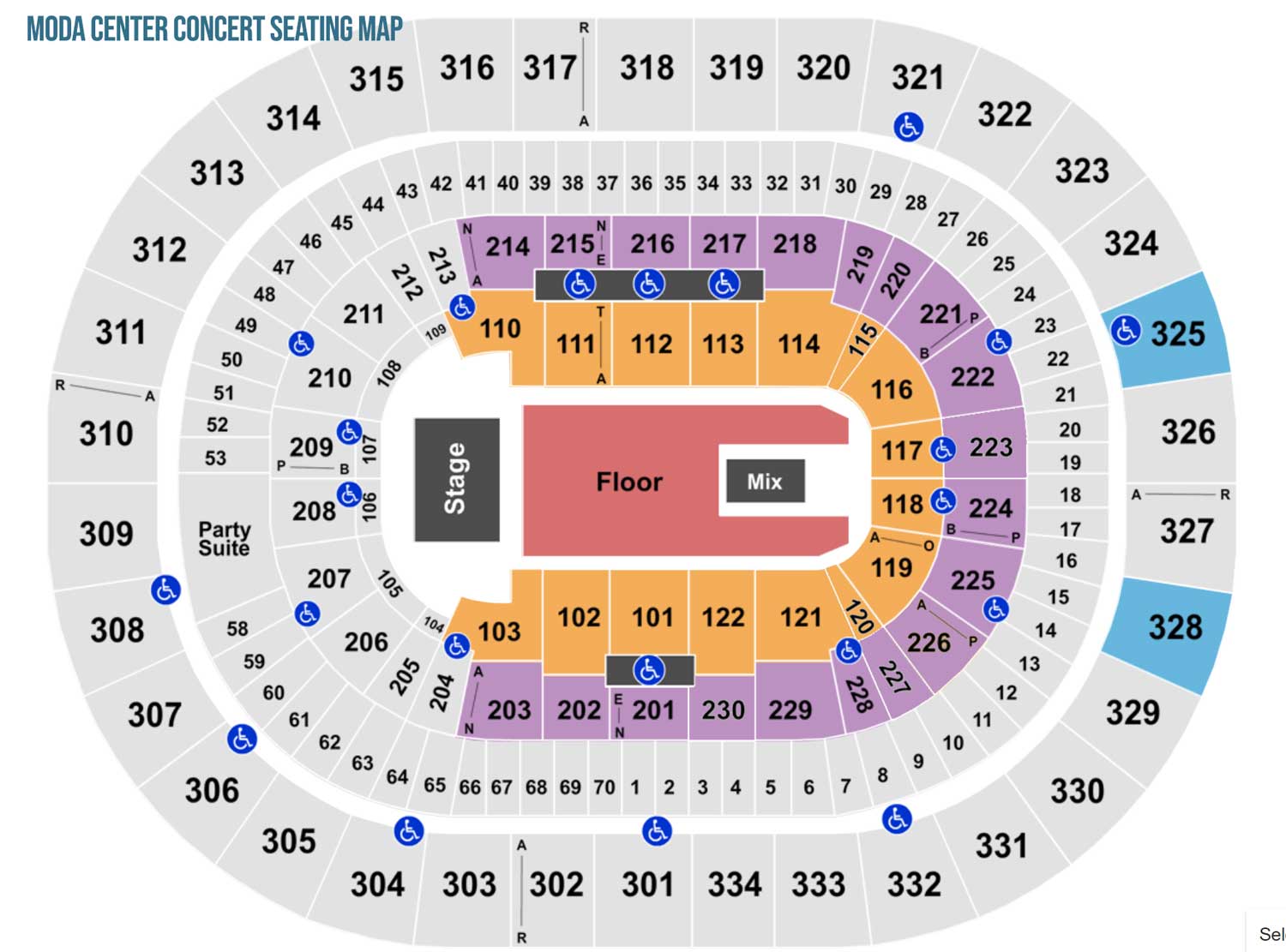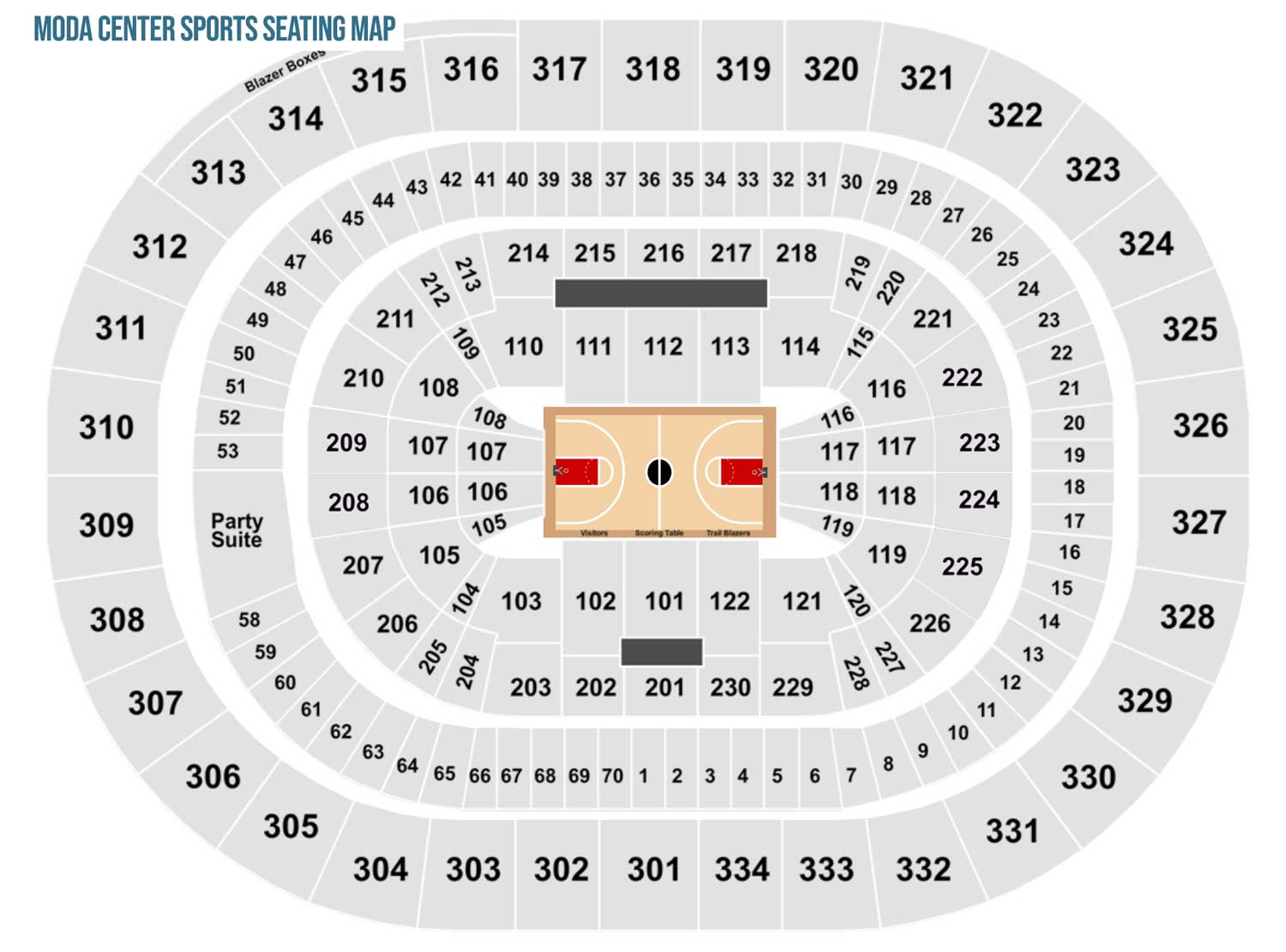 Moda Center in Portland's Rose Quarter offers over 14,000 general admission seats. 1,540 more permanent seats are reserved in the 70 Suites and 8 Skyboxes, and another 4,200 portable seats can be set up if required. Moda Center can be configured to accommodate every type of show.
If you're there to see a basketball game, you'll see seating for 19,393. If it's lacrosse, this capacity decreases to 17,544. If standing room is required, the stadium can hold up to 20,796. The floor can also be filled with ice, for hockey games or ice show spectaculars.
When Moda Center is used for concerts, a stage is set up at the north end. The seating capacity varies from 13,000 to 19,000, depending on the set-up. With a full curtain set installed for the 'Theater of the Clouds,' the Center seats about 3,000. An additional 6,500 seats are available if some of the party Suites and Skyboxes are used.
Floor Seats
Floor seats are at stage level, and great for being up close at concerts – unless you're small and can't see over people's heads. Usually, 40 rows of Floor Seats are located on the basketball court area, with about 42 seats per row. Floor Seat tickets are sometimes general admission and just labeled 'Floor.' More typically, they're divided into three equal-sized sections labeled Floor Right, Left and Center.
Courtside Seats
For games and large shows at Moda Center, courtside seats are divided into four compass point sections, typically with 49 rows. Courtside Club and executive seats are also available here, usually numbered AA-RR.
Bowl Level Seats
The lower bowl area is situated below the executive Suites, and it's divided into levels 100 and 200. The 300 level refers to the upper bowl or upper level balcony seats, above the Suites.
On the 100 level, sections are numbered in a clockwise direction from 101 to 122.
Sections 101 and 122 are next to each other, in the west center. Each section has up to 27 rows, going from A to T (excluding I and Q), and some sections may have Club rows in front. Seat numbers ascend from right to left, looking at the stage.
On the 200 level, a similar scheme applies, with sections 201 and 230 in the west center. The 200 sections are numbered clockwise from 201 to 230, with 23 rows, going from A to P.
On the 300 level, the sections go clockwise from 301 to 334. Sections 301 and 334 are adjoining in the west center, with 23 rows going from A to R.
Suites or Skyboxes
Between the 200 level and the 300 level are the executive seats and facilities. Moda Center offers 78 catered Suites or Skyboxes, for parties of up to 22 guests. They're ideal for special group bookings and corporate entertainment. Amenities include private restrooms, a wet bar, beverage service, television monitors and their own sound system.
What's more, you can also get modular party suites, which combine two Super Suites for parties up to 44, or one Mega Suite for 88. The Blazers also have their own designated boxes, plus there are slots set aside for press and cameras.
Suites are numbered counterclockwise from the left center, from S01 to S70.
Disabled and Accessible Seating
Moda Center offers wheelchair accessible seating on all levels. With each seat you can also purchase up to three Companion Seats. Other convenient services at Moda Center include wheelchair check-in and escort assistance, assisted listening devices and limited mobility seats.
Best seats at Moda Center
With so many different types of events, it's hard to pin down Moda Center's best seats. You should check the appropriate seating chart for each event.
The Club Level is generally a good choice. You'll find these seats on the 200 level, in the 7 sections facing each other on the east and west front center. 202, 203, 214 and 215 are closest to the stage for concerts.
If you're attending Trail Blazers games, Courtside Club offers amazing seats within five rows of the court. Sitting here will not only give you an unforgettable, high-adrenaline experience, but upscale club amenities.